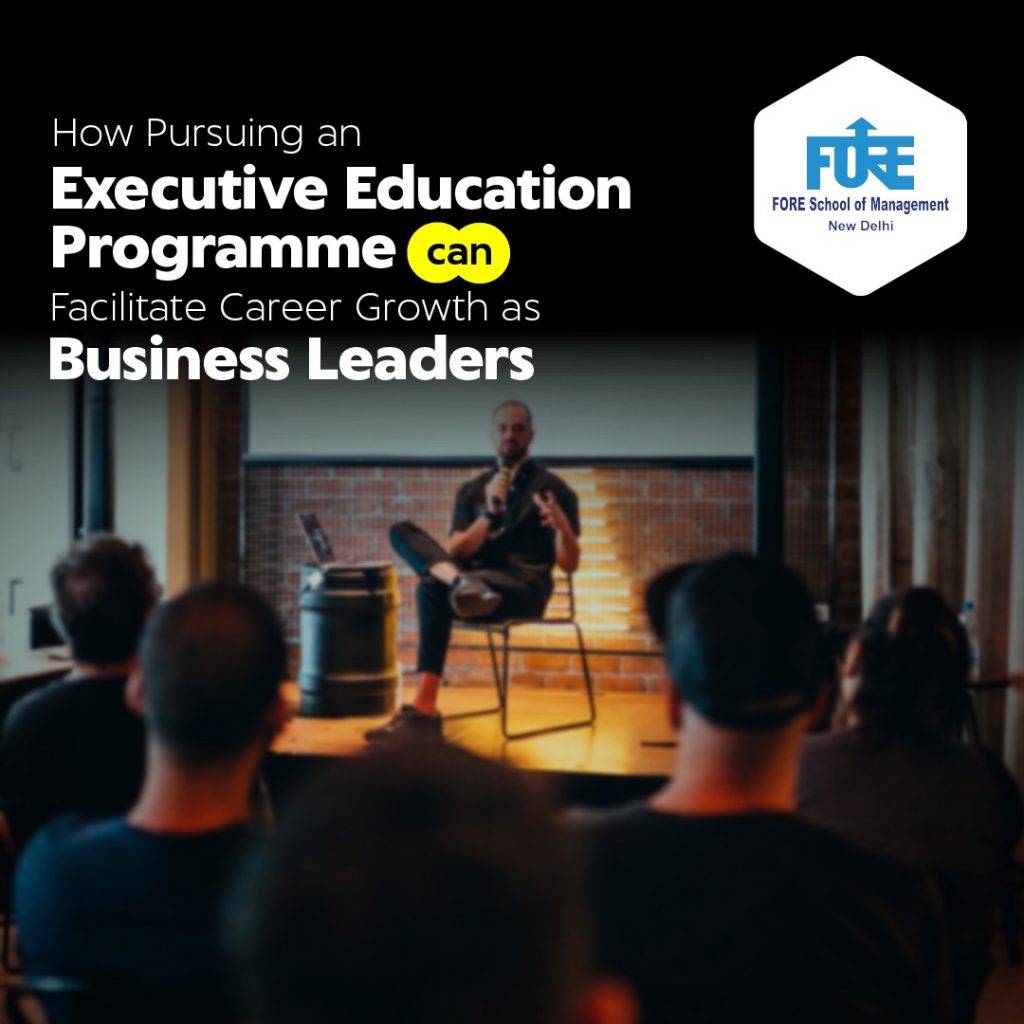 In today's vastly technologically-driven business ecosystem, the demand for skilled professionals is consistently growing. Keeping up with these evolving requirements, organisations are encouraging their employees to re-skill themselves so their current knowledge base is upgraded as per the changing requirements. While most freshers who have graduated from leading B-schools of the country possess these skills, existing executives need to bridge this gap to facilitate their career growth.
What is Executive Education?
Best management schools in India and other countries have recognised the skill gap in the requirement of the industry and the existing workforce. These executive courses concern a diverse range of topics ranging from negotiations, emerging technologies, leadership programmes, strategising practices, operations among others that aim at filling this gap. The rationale behind all these executive courses is to enrich the existing skillsets of the working professionals and prepare them for the next level and evolving market scenarios.
However, these executive programmes are different from regular management degree courses. The basic difference between a regular management programme and an executive education is that the former deals with the theories of management more comprehensively, whereas the latter concerns specific niches that are derived from real-life work experiences and challenges, and can be studied in a limited period.
What is the Need for Executive Education?
Several kinds of research suggest that business executives are constantly looking for avenues to enhance their existing skillsets. They believe that pursuing an advanced full-time course in a specialised aspect of management will aid their career growth.
Technology is a massive facilitator that is harnessing the shifting paradigms in the business ecosystem in recent times. Attaining proficiency in contemporary areas such as big data analytics, artificial intelligence, machine learning and combining them with traditional methods of operations will pave a way for better job opportunities shortly.
Organisations recognise the need for employees at executive positions to possess a blend of technical and soft skills so that they can delegate and motivate their subordinates more efficiently. For doing so, they must familiarise themselves with modern methods of business development so that they can pass on their learning in their respective hierarchies.
What is the Impact of Executive Education?
The immediate impact of an executive education would be an upgrade in the CV of the individual. A certification in a niche and trending skill garners the attention of the best recruiters from reputed organisations. Additionally, it broadens the perspectives of an individual and enhances their business vision.
While pursuing executive programmes, individuals get an exclusive opportunity to interact with other working professionals from diverse walks of life. This helps in gaining deeper insights into diverse industries and markets, thereby assisting them to indulge in deeper analytical learning processes. Collaborative projects and assignments constitute a major part of such courses that serve to build great teams and best communication practices.
Compared to full-time management programmes, an executive course does not require an individual to take a break in their career. This also aids an individual to apply theoretical concepts in practical
real-life scenarios almost immediately. Thus, they receive prompt feedback about the usage of their upgraded skills which facilitates deeper learning.
Where do B-Schools Come into the Picture?
Owing to their comprehensive course structure that is a blend of theoretical knowledge and practical applications, B-schools play a crucial role in this transformation. The curriculum is tailor-made and taught by experienced faculty members who possess unchallenged expertise in their respective domains.
Furthermore, B-schools promote the process of creative ideation as professionals can interact with one another and attain broader perspectives about pressing business issues. After completing the said courses, an individual upskills themselves to become an important asset for their organisation.
The Executive Education Programmes at FORE School of Management
The Executive Education Programmes offered at FORE School of Management comprising of full-time, as well as part-time courses that cater exclusively to working professionals who are aiming to upgrade their skill set and take up leadership roles in the future. They consist of rigorous training and industry interactions that guide the individual towards professional and personal growth.
The institute has established itself as a pioneer in management education for the past 30 years. It has consistently been ranking among the top management schools in the country, which is a testament to its contributions towards developing business leaders for tomorrow.