Center for Digital Innovation
Center for Digital Innovation
About the Center
There is a need to understand the emerging digital technologies and the impacts of digital innovations on business functions, firm strategies, and policy across a number of industry verticals. Digital innovations make new markets and business models possible. Understanding the factors associated with the success or failure of these new developments is the key to leveraging the power of digital technologies within organizations and markets. Center for digital innovation aims to bring out innovative technical solutions targeted towards social good. It works on Digital Strategies, Digital technologies and Digital innovations.
This can be further divided into the following sub-sections:
Backend Technologies - storing and organizing the backend data of any organization.
Platform – technologies at Digital Platforms such as digital marketing, Social media marketing, content strategy, mobile marketing, mobile apps, SEO and SEM.
Web Analytics – Measurement and analysis of (aggregated) internet data for purposes of optimizing website usage.
Primary Focus of the Center:
Research – Center works on various research projects including seed money projects and collaboration with other Institution's faculties of the same field.
Digital Startup Initiative – The center encourages students to start something of their own on digital platform for an example starting an e-commerce business or converting business from bricks to clicks. For this, the center helps, advises and guide the students to achieve their desired goals on digital platform.
Live projects and consultancy
Research Themes & Goals of the Center:
The center's mission is to disseminate scholarly research, to connect research with practice and policy, and to foster experiential learning for students.
Achievements:
Prof. Rakhi Tripathi, Head, center for Digital Innovation along with a professor from King's College London has received a research grant from British Academy. They are working on a project 'disconnected infrastructure and violence against women: innovating digital technologies to address violence against women'. Prof Tripathi, is working on the technology part. A workshop was conducted in Trivandrum for women of low income neighborhood. Findings will be published as research papers.
Research out comes are published in many renowned journals frequently.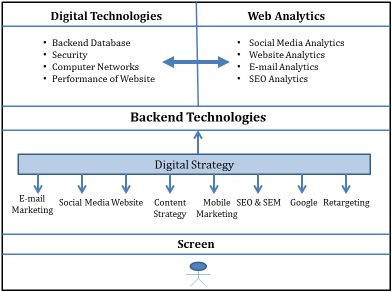 Centre for Digital Innovation: Research Areas
On-going research: Digital Technology and Strategy for Higher Education Institutions in India", Seed Money Project, FORE School of Management.
Event calendar:
1

FORE International Conference on Digital Innovation 2018. Visit: ficdi.fsm.ac.in

2

Half day workshop on 'WordPress' for 1st year students on 2nd week of January, 2019
Center Head: Prof. Rakhi Tripathi
Email: cdi@fsm.ac.in