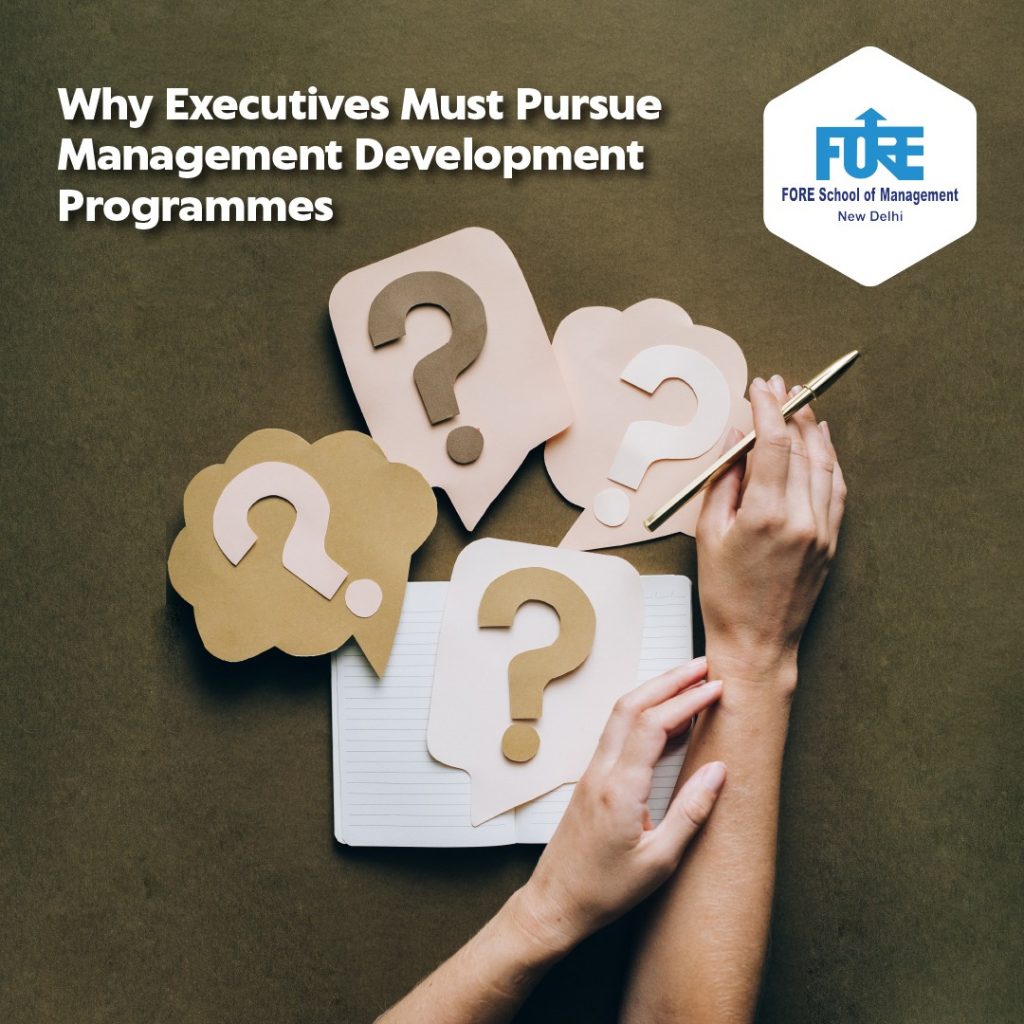 In the contemporary business ecosystem, challenges can arise unannounced. To be deemed as an effective leader, executives need to be able to react and respond to those circumstances with strategy, expertise, and innovation. It is important to be consistent with the visions, values, and goals of any organisation. Pursuing a specially curated management development course will thus take individuals one step closer to reaching their professional goals.
Management development programmes are imperative to the long-term success of any business professional. There are several reasons why leading organisations in India, as well as across the world are constantly encouraging their employees to partake in these programmes.
Reasons Why Executives Must Pursue Management Development Courses
Enhances Productivity
Managers who are trained in contemporary skills and leadership roles can automatically motivate their subordinates better, thus increasing the collective productivity of the workforce. They provide a direction to their task and ensure that the performance is at par with the goals of the organisation. Additionally, they are better equipped to analyse crucial problems, manage the crisis, and provide effective solutions.
Increases Employee Engagement
After completing a management development programme, most employees are promoted to a better position in their respective organisations. This instils a sense of loyalty and responsibility within them. Additionally, many organisations prefer to develop their existing employees by motivating them to take such courses, instead of hiring recruits in a measure to reduce costs.
Building Future Leaders
Critical analysis and strategic management are important skillsets for developing quality leaders. Without a strategy, leadership roles often land up with the most dominant personalities in the business. Quality leadership is an amalgamation of technical and non-technical skills. Pursuing management development programmes nurtures future leaders and supports succession planning in organisations, thus offering exploratory career pathways to executives.
Improve Managerial Skills and Risk Assessment
The rationale behind structuring cohesive management training programmes is to deploy novel strategies and bridge the knowledge gap about the evolving technologies. This is targeted towards enhancing their performance, and in turn, the performance of the business.
However, companies are aware of the constant presence of unforeseen circumstances and risks in business. Therefore, they encourage their future leaders as well as current leaders to pursue management development programmes that help them to acquire effective strategic vision and risk management skills.
Eligibility Criteria for Enrolling in Management Development Programmes
The minimum criterion for pursuing a management development programme is having a 3-year bachelor's degree in any stream from a recognised college/university. However, some colleges have their distinct criteria as well. Additionally, aspirants might have to give an entrance test in some cases, and their admission will be confirmed based on merit.
Avenues After Completion of the Programme
As stated previously, the objective of this programme is to update working executives about all the dynamic changes that are consistently occurring in the global business environment. Upskilling themselves gives a competitive edge over other executives. After completion of the programme, executives can apply for higher leadership roles in their respective organisations, or opt to become subject-matter experts and consultants. These courses open diverse avenues for professionals in the fields of information technology, operations, healthcare, banking among others.
The Management Development Programmes at FORE School of Management
The Management Development Programmes offered at the FORE School of Management consist of online as well as offline courses that cater to working professionals who are aiming to take up leadership roles in the future. These courses range across diverse industrial subjects taught by distinguished academicians and proven industry experts.
Over thirty years, the FORE School of Management has established itself as a pioneer in management education. Ranking consistently among the top management schools in the country, FORE has been instrumental in developing business leaders for tomorrow.