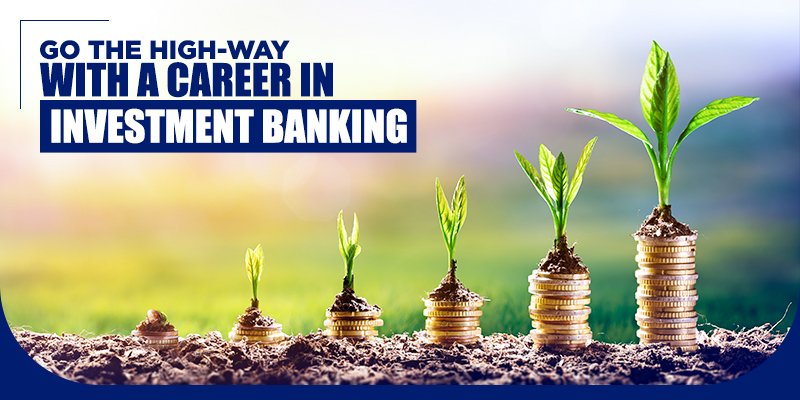 Investment Banking is the advisory-based financial service offered by a company to individuals, governments or corporations. It is a specific banking division that deals with the creation of capital by borrowing money or issuing stock in the business. Investment Bankers act as advisors or intermediaries in the process.
Apart from providing capital, an investment banker also facilitates mergers and acquisitions for clients. By advising on the worth of the companies, investment bankers structure the best deal benefitting their clients.
Some of the biggest names in investment banking are Goldman Sachs & Co., Morgan Stanley, JP Morgan, Evercore, Centerview Partners, Lazard and others. These firms are usually subsidiaries or affiliated with large banking institutions.
Scope of Investment Banking in a Modern World
Due to the arrival of the pandemic in 2020, the world has had to shift its priorities. Many jobs and positions were vacated, and people lost their decade-old careers. Questions started rising regarding the need for investment banking in a financially difficult time.
However, before such decisions could be made, the world started to turn around on its heels and climb back to find pre-pandemic economic stability. 2021 saw the return of rising investment trends, banking transactions and mergers. The trend is expected to be positive for the foreseeable future.
Turnover for Derivatives went up from 49 Billion in 2020 to 72.32 Billion in 2021. The total number of companies under BSE has risen from 7,172 in 2020 to 7,440 in 2021. The stats for mergers and acquisitions are expected to return to the pre-pandemic levels worth almost USD 23 billion.
Investment Banking jobs have seen a surge of revival as well. The pandemic has caused many firms to re-evaluate their finances. To get a handle on the equity, companies would need the expertise and resources of a reputable investment firm. Career opportunities in Investment Banking are expected to surge with the arriving unlocks and ease of restrictions.
Investment Banks and it Types
Investment Banks are unlike any other firm. There are four types of Investment Banks that you must know about:
These are the smallest types of investment banks. The size of the bank, as well as the transactions and deals, are small. These banks typically focus on a particular service like mergers and acquisitions in a selected market sector. Their operations are also region or country-restricted due to their size.
While India has several good Boutique Banks like Veda Corp, RippleWave Advisors LLP, MAPE Advisory Group, Cogence Advisors Private Limited and Equirus Capital Private Limited, their reach and clientele are beyond the traditional meaning of a Regional Boutique Bank.
These are the largest and highly recognisable firms in the field of investment banking. Their clientele and transaction size are higher than any other type of bank. These banks usually handle multi-millionaire clients from Fortune 500 or even Fortune 100 lists. They operate in multiple countries, with all of the services offered under investment banking.
Bulge Bracket Investment Banks list includes highly recognised names such as Goldman Sachs, Bank of America, Morgan Stanley, Deutsche Bank, and Credit Suisse Group AG.
Elite Boutique Banks closely resemble a Bulge Bracket Bank. It is typically due to the size of the transactions and deals. Similar to Bulge Bracket Banks, Elite Boutique Banks have a nationwide reach, and in some cases, a decent international presence. Elite Boutique Banks usually offer a particular service like mergers and acquisitions, but the size of transactions is bigger. They may operate out of a few offices in multiple countries but not to the extent of a large firm like JP Morgan Chase & Co.
Elite Boutique Banks like Avendus Capital and Veda Corporate have a firm grasp over the Indian market. While there are Bulge Bracket Banks, many companies prefer the services of such Boutique Banks.
As the name implies, Middle-Market Banks occupy the space between Bulge Bracket Banks and Regional Banks. While their presence could be throughout the nation, they rarely exceed the borders. But Middle-Market Banks offer almost all of the services that any Bulge Bracket Bank would.
Centrum Capital Limited, BMR Advisors, PriceWaterhouseCoopers Corporate Finance LLC and Elara Capital Plc are some of the Middle-Market Banks in India.
What are the pre-requisites to become an Investment Banker?
To become an investment banker, one must pursue a finance-based course that teaches all of the important aspects of business, capital, investments and the core financial principles.
Investment banking services include mergers, acquisitions, equity research, issuance, and asset management and trading. These require individuals who understand the financial aspects of a company as well as the market and its emerging trends.
So, to get such variation of knowledge a course with a financial focus like a PGDM in Finance is required. Such a course would provide you with the knowledge and practical understanding required to become an investment banker.
Reputed institutes like the FORE School of Management provide PGDM in Finance among many specialised courses. Their reputation is a result of their efforts in helping students achieve their career goals.
What FORE offers to fuel your Investment Banking dreams!
FORE School of Management offers more than the usual caveat of academic learning. Students are given practical knowledge through live projects, site visits, case studies, presentations and other engaging activities beyond the classroom. They are prepared to tackle the challenges of the industry head-on.
Students are also required to participate in the International Immersion Programme. It is designed to provide students with the much-required exposure to industry leaders' international business scenarios and practices. So if you too want to start your career in Investment Banking with some of the top banks in India, a PGDM in Finance is the best plan to make it happen. So, why not enrol with the best institute for PGDM in India !
---