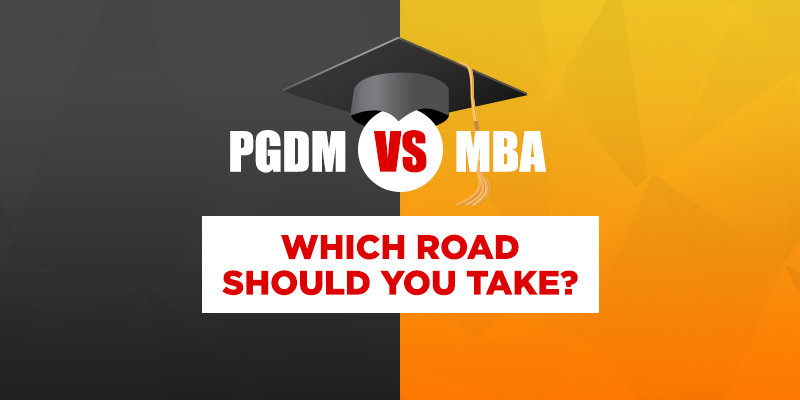 Whatever you pursue professionally, there is a reasonable chance that it will include some "business". Engineers, doctors, artists too have to learn at least the basics of management to flourish in their respective careers.
A student opting for management education has many advantages. It can alter your corporate journey by making it more effective and even more ambitious. The skills acquired in a classroom of a management institute helps in dealing with the hurdles of business complexities.
Over the years, many students in India have been choosing management studies as a part of their higher education. The accelerated surge in choice has directed an increment in the number of management institutions in the country.
Let us consider some points that justify the value of management education:
Takeaways of Management Education
Familiarity with Business Operations
When starting with a management program, you learn a lot about the pillars of the business and will have the opportunity to develop and improve your knowledge on the same.
Better Opportunities
Each management college has a placement cell that shortlists companies for campus recruitment and provides job training sessions.
Leadership Skills
In a management institute, various workshops, group discussions, and projects will empower you to step out of your comfort level and face the crowd.
The 4 P's
Under management education , you'll have the opportunity to know the product, people, partner, and process – determining how to maintain a balance amongst them.
For a Journey Towards Corporate Success
A better profile/position is guaranteed in an organization with a management degree in hand. Moreover, you will perform better because of the skills and experience acquired during the two years of the management program.
PGDM Vs. MBA
Fresh graduates search for the best pathway to reach their career goals, and various management institutions try to lure them to the management courses they have to offer.
After becoming sure about pursuing higher education in Management, the one question that still baffles management aspirants is choosing between MBA & PGDM.
As the admission season approaches, this PGDM vs MBA dilemma for the management aspirants continues to exist. The confusion is further magnified by numerous business schools that claim their towering achievements in the university system.
The Basic Difference
When an institution is an autonomous body, the management course they'll award is Postgraduate Diplomas (PGDM). These B-school colleges are recognised by the Government of India's nodal body for technical education – All India Council for Technical Education (AICTE).
While an MBA is for those who seek a holistic view of the management program, PGDM is for the ones who seek specialisation in their areas of interest. Management industry leaders recognize talent from reputed institutions rather than caring for a PGDM or MBA.
Hence amidst the rift between what's better, the most important thing you need to understand is companies come for campus placements, not because of the degree. Instead, they look for professionally matured, capable students who will take their business forward.
Scope of PG Diploma in Management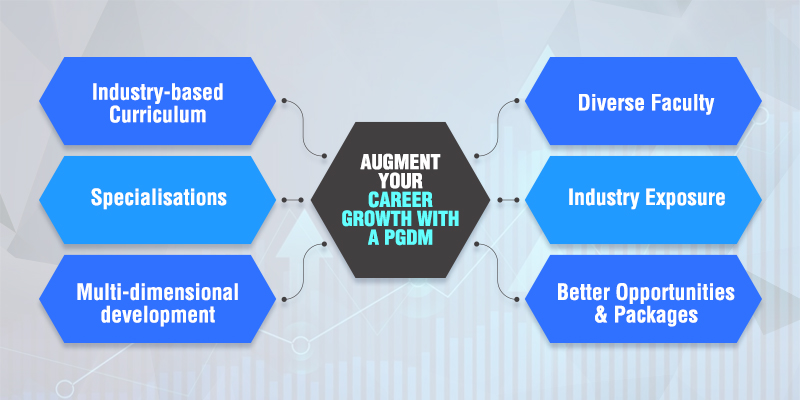 ---
In the past, the line between PGDM and MBA looked blurry. But now, it has boiled down to the student's skill sets rather than the degree.
Against this backdrop, let's list out the definitive scope of a PG Diploma in Management over an MBA
Industry-Oriented Curriculum: PGDM colleges collaborate with industry experts to develop a complete curriculum tailored to the industry's needs.This helps students to take up the industry-relevant current challenges.
Choose Your Specializations: PGDM lets you specialise in your area of interest. Business Analytics, International Finance, Human Resource and Enterprise Management are just a few, to name amongst the several specialisations prospering in the market. Both fresh graduates and working professionals can take up the PGDM program.
Multi-dimensional Development: Under the PGDM program, you will be offered enormous exposure to the real-time business world. Classroom studies, meetings with top business leaders, internships help the students to get comfortable with the business environment and make them job-ready. Selective quality assignments and healthy student-faculty relations are an essential part of it.
You will also get to work on interpersonal skills through international and domestic industry visits. A great advantage for corporate success, isn't it?
Better Placement Opportunities & High Salary Packages: Colleges with PGDM courses render attractive placement opportunities since they are autonomous.
Companies today concentrate more on the skills of their employees. PGDM courses with their exclusive focus on skill development provide just the same. Post PGDM, you can serve as a valuable management asset for various esteemed organisations across industry verticals, India and abroad.
High-quality skills and better placements will earn you the package you have always dreamt of. After all, PGDM courses drive towards better career growth.
Experienced & Diverse Faculty: PGDM faculty members have multi-disciplinary experiences in both – Academia and Industry. The potent blend of the teaching experience and mentoring ensure that each student emerges as a responsible business leader from the institute. The skills learnt help in surviving the competitive corporate world with ease.
Industry Exposure: PGDM colleges organise students' visit to the industries for learning effective business strategies. By the end of the 2-year course, you will get well-versed with industry know-how before venturing out in the corporate world.
Pick According to Your Requirements
Today, the most in-demand skills in the market are incorporated into specialised courses by the PGDM program. The MBA from lower rung colleges may give you a degree but not the skills you can get from a well-ranked PGDM college.
Therefore, understanding your career goals is a must. For example, if you are interested in a corporate job and a high-end career, you should select a B-school/College based on their curriculum, placements and the skill sets they have to offer.
Take your decision considering all the parameters discussed above and select a perfect program and the right B-school for a successful corporate career.
---