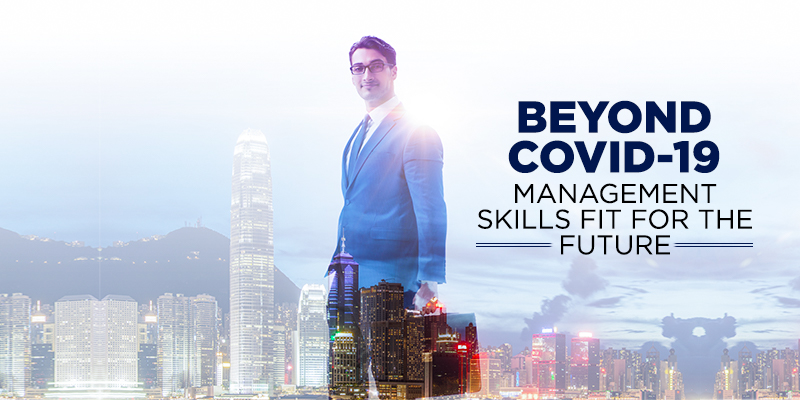 The world as we see it today has witnessed a notable shift towards the digital age. And the organizations have insisted more on digital transformation to keep pace with the changes going around. Digital change can be a bit disorienting and can create panic. However, if the leaders are confident about the changes, adaptation becomes easy.
Like in the past, many management leaders embraced the corporate transformations and adapted to them very swiftly. They upgraded their management skills that go hand in hand with the changes necessary. It is an example of how enhanced and improved skills have allowed influential leaders with the conviction of doing things.
But, what exactly are these new-age management skills that set them apart?
Leadership or Management skills are required to engage with and motivate people to align with a vision. And a leader thinks long term, advances strategically, influences, and obtains authority through behaviour.
Management skills can be defined broadly as anything that enables you to effectively manage others. While some skills are specific to your industry, others are applicable in almost every workplace.
Communication
One of the most significant capacities managers have is communicating persuasively with the employees working under them and others designated at various organizations' levels.
And for this communication, having people skills are vital. Ideal managers communicate messages with absolute clarity and share relevant information that helps in getting the specific job done.
Encourage communication among hesitant employees
Negotiate successfully to resolve employee disputes
Maintain open lines of communication with coworkers
Lead productive meetings that are sensitive to time restraints
Motivation
Managers who can encourage their employees are real, tangible assets to their company. This kind of communication not only promotes productivity and employee satisfaction but sets a solid example as well.
While hiring, corporate organizations lookout for leaders who can recognize their employees' strengths and encourage them to develop their skill sets. In this way, employees feel confident to make adequate changes rather than getting discouraged for their shortcomings.
Essential skills here include:
Creating a dynamic and highly motivated workplace
Empowering teams to take ownership of projects
Showing fitting appreciation for employee achievements
Trying to remove productivity obstacles.
A motivational leader will always push themselves to perform and achieve more. Wherever they reached is all based on their hard & smart work. So, once they're into management roles, they don't rest on their laurels. Instead, they must keep pushing to increase the standards expected from the company.
This simple act will inspire others to strive to achieve the same. People will try to follow their lead, which eventually helps in creating highly motivated and productive teams.
Professionalism
Honesty, integrity and professionalism are fundamental management skills required for being solid managers. As a leader, it's more satisfying to show rather than tell when setting work ethic and behaviour.
Qualities that radiate professionalism include:
Strong moral values
Ability to take initiative
Ability to determine a problem and solutions with absolute sensitivity
Ability to behave consistently with the ethical standards of your field
Ability to plan & measure progress
Regardless of race, gender, sexual orientation, or religious affiliation, the ability to lead, create a vision, and motivate is required.
Technological Proficiency
As the world is changing at a fast pace, technology has taken over everything. And technological advancement has now prospered in the corporate industry as well. A technically skilled leader recognizes the bigger picture that technology can play in an organization. Therefore, it is one of the crucial skills that a leader should possess.
Technically able leaders possess knowledge about organizational strength, products and services, and the capacity to solve technical issues and help others adjust to new innovations. This skill will assist you in portraying yourself as a future leader who is well equipped with thoughts and ideas with excellent problem-solving expertise.
Make your expertise in:
Offering customer support and data security
Giving technical support to employees or customers
Innovation
Innovation is a focus essential for nearly every organization. Your competitors are constantly aiming to tap the most exceptional new products and services ahead of you. Companies that continuously innovate stay at the top of the pack, bringing in brand-new customers with their novel offerings while keeping their existing clients happy with an infinite range of updates.
Top management always has a keen eye for professionals who bring diverse perspectives and unique ideas.
Highlight your expertise to innovate with these skills:
Generate fresh ideas for topical marketing campaigns
Redesign systems for increased productivity or functionality
Develop innovative solutions for customers' needs
Problem Solving
The best skill set enables managers to face, identify, and overcome several problems that might arise in the workplace.
This first requires exceptional attention to detail. Good leaders/managers can spot emerging issues before they're known to everyone in the company. They recognize the root of the trouble/problem.
Analytical skills are also essential in management. As a leader, you should know what data is relevant to your business, processes and ideas for gathering it and recognizing the solutions with the resulting numbers.
Develop these problem-solving skills:
Anticipate potential issues before they arise
Troubleshoot quickly and effectively
Express resourcefulness in the face of a problem
Being Collaborative
Individual contributors and talent can make a difference in any organization. However, it becomes more difficult for your opponents to take you down when you play as a team. However, this sense of coordination and collaboration will only be realized as a result of your leadership.
It is significant to have a well-coordinated team. And, to foster a collaborative environment, you must be outgoing, compassionate, digitally savvy and communicative.
To attain a suitable level of knowledge and expertise in these management skills, try opting for a good management college at your end. The right college will hone these skills, and you will watch how they can impact your job performance and opportunities soon.
Some of the premier management schools in Delhi provide students with an enriching experience that enables them to reach new heights in their professional life. They foster the sharpening of management skills in their students through various activities and contribute to expanding their knowledge in their field of expertise.
---