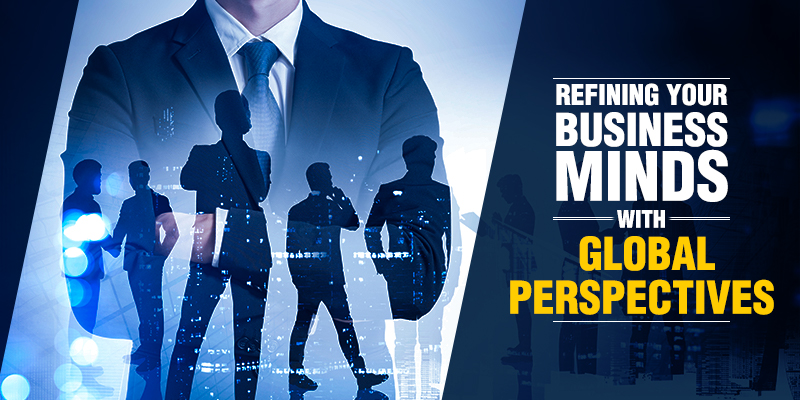 A career in International Business empowers you to travel worldwide, interact with high-level clients, and mould organizational outcomes. It's a career that cuts through complex intercultural concerns—assisting you in making a lasting impact on global organizations while placing yourself for professional advancement.
With the world economy going back to normal in the coming time, many businesses have offices overseas and will be looking out for international business employees in positions that include management and financial analysts, marketing managers, executives, and economists.
If you're seeking to enter the international business market, remember that most global roles require an advanced degree today. According to a report, 57 percent of employers necessitate a specialization program for acquiring positions within the scope of international business.
Post Graduate Diploma in Management-International Business
FORE School in Management caters to the growing demands of students who deem fit for international business roles.
Their two-year full-time post-graduate diploma in International Business strives at developing students to take up careers with the corporates engaged in International Business operations.
The aim of this program at FSM is:
To strengthen students for seizing positions of responsibility in global corporate houses.
To give an absolute grounding to the students in the conceptual framework of management theory and in the quintessential issues in international business operations.
To equip the students with the skills relevant to managerial practice and work in a competitive global environment.
Evolve with the dynamic changes emerging in the international environment.
What's in Store for Students?
The students will understand the business environment across industry, economies, cultures and geographies.
They will be able to analyze the issues that emerge from the growing interface of the economy with the global business environment.
Students will be acquiring an understanding of several management functions and practices in the global market and promoting strategies in international business situations.
Pedagogy
The teaching methodology incorporates an excellent mix of lectures, case studies, classroom discussions, group discussions, special sessions from industry professionals, sensitivity training and industrial interaction. Students are prompted to present their cases via written case reports, group or individual presentations. The opportunity is also conferred to the students by allowing them to participate in the seminars.
What does their curriculum entail?
The curriculum of the PGDM in International Business at FORE School of Management is a result of the constant review by the faculty in agreement with practitioners from the students, alumni and the industry.
The content and design of the program here is focused on promoting future managers who :
(i) have a holistic knowledge of international business along with the appreciation of its role
(ii) are industry-ready due to knowledge of concepts, frameworks and models steeped in the context of practice
(iii) and have sustainable employable competencies fused with learning through advanced courses that are futuristic.
Under the two years of curriculum, students have to undergo both core and elective subjects. These subjects are a diverse mix of foundational, perspective building and techniques oriented, as well as functional courses.
The core subjects provide a thorough grounding in the management discipline and the understanding of business. The elective subjects enable students to pick and acquire proficiency in their domain.
Students are required to undertake a mandatory 8-10 weeks of Summer Internship in a public or private corporate organization following the first-year program. Summer Internship is supposed to equip students with robust managerial insights about business problems, learn management concepts according to industry practices, and refine knowledge acquired in the classroom.
The second year of the program comprises only elective courses which include subjects offered by various sectors, exchange programs, and an International Immersion Programme (IIP).
International Immersion Programme
The International Immersion Programme is one of the components of the PGDM program at FSM. It empowers students to have exposure to global business scenarios and international market practices. The immersion requires 15 hours of in-class course in an elective of choice as well as industrial and corporate visits at any international partner institutions abroad.
Note: International Immersion Programme (IIP) is a complementary element of the PGDM program at FORE. It is subject to safe global travelling conditions during the stated period, and the Institute reserves the right to cancel the same in a situation such as a pandemic.
Professionals who enter international business open themselves up to various roles shaping organizational strategy, directing global policy, and managing corporations. And FORE School of Management can help you achieve the same.
Click here to explore a career in International Business based on what resonates with you.