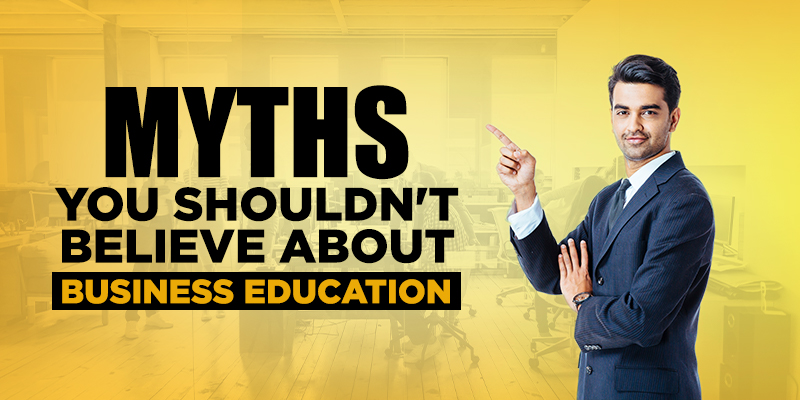 Business education includes a variety of methods for teaching students the basics of business practices ranging from formal degrees like MBA to school-to-work opportunity systems as well.
Business education programs are created to equip students with the fundamental theories of management. The primary goals of business education programs are to teach decision-making processes, the theory and psychology of leadership; practical applications; and operational procedures.
Business education programs provide career paths for high-skill technical and professional occupations by formally linking secondary and post-secondary education and integrating academic and occupational learning. Students who take up programs in business studies always have the edge over others during their professional journey.
Despite all the offerings, there are some misconceptions about adopting management as a career path – ultimately making youngsters reluctant to apply for a program that has so much to contribute towards students' corporate success.
Myth: Job opportunities are limited
There aren't many work opportunities for management students. You will mainly end up working in a 9-5 office job.
Fact:
Unlike Engineering, Medicine or Law, there is no clear career path for Business degree holders, making the world their oyster.
Management professionals are considered one of the most versatile in the job market, as they can be employed in diverse management fields.
Business students can be found everywhere, working and making their mark in major industries ranging from business analytics, marketing, logistics, healthcare to e-commerce. You can select amongst fast-paced jobs (startup), constantly-on-the-go jobs (sales & marketing), fun and creative jobs ( media & entertainment).
The choices are plentiful because a management background gives you the requisite knowledge and skills to innovate and adapt to the modern corporate environment.
Myth: Money-mindedness
Only people who want to get rich and prosperous pursue business-related study. It is also perceived that you must also possess the desire to own a business/ become an entrepreneur if doing so.
Fact:
Taking up any business management program does not mean that you will be equipped with the skills and knowledge. Neither does it imply that being a business mogul is all you focus on.
As stated above, the field of business comprises an extensive range of occupations or industries. For instance, the marketing field contains market research and brand promotion, specialization in Human Resource Management includes the management of organization and people.
None of these fields mandatorily hold the magic for you to be a prompt billionaire. The management professionals work with the utmost passion for achieving success – whether to revolutionize organizational transformation or encourage people to invest in the stock market. (Finance).
Myth: Business studies is the most accessible course
If you want to drive through your higher education without breaking a sweat, you should opt for a management course.
Fact:
It may appear so until you get a real taste of how thorough business education can be. Not only that, with continuous developments in the management field, you will be expected to be up to date with the current trends.
Indeed, it might not be as academically demanding as a degree in Medicine. Still, you will find the business program as challenging and exciting as any other course.
Myth: A Business degree is general
You cannot learn from a business/management degree unless you are majoring in any subject. Business studies is general and is not time worthy.
Fact:
With so many subcategories within the industry, it is apparent to see the field as this huge buffet where you get to taste everything without committing to anything – at least in your bachelor's degree. Since companies have many interrelated business functions, exposing students to diverse subjects is practical before narrowing them down to any specialization.
When going for a Post-Graduate Diploma (PGDM) program, business schools offer various specializations as a part of the program. Whether it's Marketing, Economics, International Business, Finance or Big Data Analytics, these programs equip you with an in-depth understanding of a specialized field.
Myth: Competition in the Corporate
The majority of today's students are studying business management. The job market will struggle to meet such a massive supply of graduates. You'll most likely be out of work.
Fact:
Bureau of Labour Statistics states that employment in the management sector is expected to increase by 7 per cent from 2018 to 2028, resulting in about 706,900 new jobs.
This employment growth is to be stimulated by creating distinct industries and expanding existing ones, which would require more professionals to manage these operations.
The above statistics are enough to confirm the increasing importance and job opportunities in the business management field. Now that we have exposed some of the most common myths related tobusiness education , you can reconsider and take that leap of faith. Attempt to choose a management course that you're passionate about because otherwise, nothing in your path will make any sense to you.
---