Internet today can be considered as the engine driving almost everything in our lives. This is where the idea of internet of things comes in. a collaboration of systems and processes that makes human life easier. There are certain practices that companies must undertake when dealing with IOT. Especially when it comes to academic institutions, IOT can do wonders in peer to peer learning.
PRACTICE 1 : IMPLEMENT LOTS OF TEST CASES
When we are talking finances, i nitial test cases or the pilot efforts won't give us strong results. This is exactly where many institutions fail to look at the long term results. An initial test case may not give you instant value but over time, it will reap strong results. Let us say we transform our library into a complete digital library and make it mandatory for each student to read at least 15 hours of library content each month. Let this content be accessible from any part/device in the campus. Now this small practice may not help them in the near future but the bigger picture is that we have successfully incorporated the habit of reading in a few students if not all. In the long term they will have more knowledge than any of their colleagues at the organization and hence more milestones for them.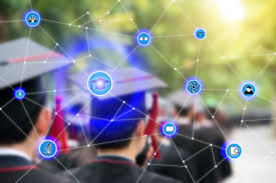 PRACTICE 2 : MOBILIZE THE WHOLE PROGRAMME
One of the core benefits of IOT is that anything is accessible from anywhere. Why not apply this for course books. Creating a digital platform and having all the subject related e-books not only for this term but for upcoming terms is a good way to let students prepare in advance. Gone are those days when you have to mail a faculty to meet them. Instead put all your discussions and ideas on the digital platform, record them virtually, let the concerned faculty review them and give you suggestions accordingly. This saves time and energy for both the parties.
PRACTICE 3 : TAP INTO THE ECOSYSTEM WITH PARTNERS
One of the best ways to get the best out of any technology is to collaborate with the experts. As an academic institution we can try to collaborate with reputed industry leaders to bring about an IOT based change in the processes within the organization. A certain way of doing this is to have an expertise in this or collaborate and create certain courses on IOT which can be taught by these partners and get suggestions from the students about the upcoming process change in the organization.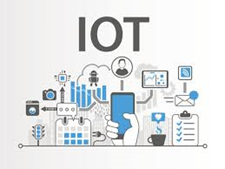 PRACTICE 4 : MAKE YOUR STUDENTS DO IT
SPJIMR runs certain courses on machine learning and IOT. On the other hand students there are also encouraged to make their own IOT devices and test them in the real world. Well we as an MBA institution can have similar practices and we can also introduce monetary reward program or scholarship program for the students who come up with an exceptional program. According to a Google survey, it takes only $10 to build a basic smart home. Now just imagine the possibilities with budget more than that.
PRACTICE 5 : PRACTICE EXTERNAL CHANGE
A Harvard study found out that managers who indulge in projects associated with IOT are 60% more likely to excel at their jobs/interviews. One of the prime reasons for this is maybe when you handle the projects within IOT, you may have to deal with AWS, SAP, AI/ML and many more technologies like these. Hence over time you will be able to handle data more efficiently and that is what every company needs today. Data is the new fuel. In the coming years DATA will be driving the wheel of the lives and companies will pay hefty bucks to grab the customer data.
PRACTICE 6 : PREPARE FOR CYBERATTACKS
One thing which is very certain with IOT is that it is prone to cyber attacks. In a connected world things may slow down or completely shut down for you in case of a cyber attack. The ability of the institution to bounce back from a cyber attack is what will define their crisis management efficiency and will make them surer of their ability to withstand subsequent attack. Paying a greater attention to the aspects of security from choosing platforms and assembling able team, both will matter when we work on a defined course of action with IOT