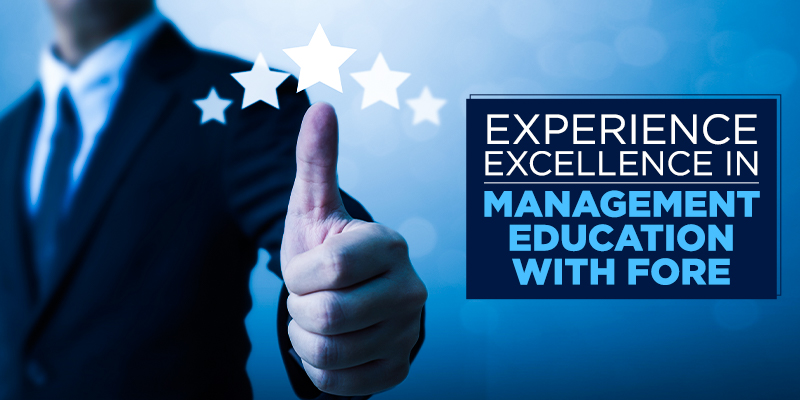 PGDM or Post-Graduate Diploma in Management is a program designed for students or professionals interested in management roles. The PGDM Program is an autonomous course where updated industry-oriented knowledge is imparted to students.
The constantly evolving nature of PGDM allows for a practical understanding of the concepts in students. This autonomous nature and practical acumen are the reasons why a person with PGDM will more likely hold a higher position in the company.
FORE School of management offers PGDM with the proper mix of practical knowledge and theoretical education so that students are confident about utilising the information to achieve their career goals.
Teaching Methodology
Teaching practices at the FORE School of Management include both theoretical as well as practical aspects of management education. Besides lectures from expert academicians, classroom discussions, case studies, group discussions, special sessions by industry professionals, management games, sensitivity training and industrial visits are all a part of learning at FORE.
Additionally, students at FORE are given the opportunity to join the International Immersion Programme (IIP). Here, they are exposed to international business scenarios along with attending industrial and corporate locations of importance. The program is spread over a week.
FORE also conducts seminars with guest lecturers who share their experiences and knowledge regarding their strides in the industry. It is a helpful experience for the students as it provides them with an insight into the functioning of the industry and the role they may take on.
Specialisations & Programs
PGDM Program in FORE School of Management is available in multiple forms and structures. Apart from the usual PGDM, other programs offered are PGDM in International Business, PGDM in Financial Management and PGDM in Big Data Analytics. Additionally, Executive PGDM is offered to business professionals looking to take up management roles in their companies.
FORE School of Management offers PGDM specialisations like Marketing, Operations, Human Resources, Information Technology, Finance and Consulting & Research. Each specialisation offers an in-depth understanding of the subject at hand to prepare the student for their career goals.
Infrastructure & Campus Life
For a student, it is not just the learning, but also the overall experience on campus that is important as well. FORE is designed with Libraries, Auditoriums, Computer Center, Canteen and Sports facilities that improve the overall learning experience for students.
Additionally, FORE has a Language Laboratory designed to facilitate effective learning of the language.
Cultural Events & Activities
FORE celebrates cultural participation as much as the academic one. Events and Functions like Anubhuti, Jubilate and Freshers' Night are all part of the life of a FORE student. These are annual events where students can engage in activities and manage the events to further their leadership skills.
The cultural events also act as a break from the rigorous life of a business management student. Here, students can showcase their talent or just participate to explore new opportunities at a whim.
Placements
The Placement Team at FORE ensures that PGDM students get the opportunities that they deserve. More importantly, they prepare the students for the interview and identify the opportunities.
A great emphasis is given to preparing and identifying the opportunities with mutual understanding and effort. Through these activities, the FORE School of Management has assisted over 350 students with their placement for the batch of 2019-21.
The highest CTC offered to a PGDM student of FORE was INR 27 Lakhs Per Annum. The average was also an impressive 10.7 Lakhs Per Annum. Besides the excellent figures, the Placement Team also managed to add 58 new recruiters with the FORE School of Management.
Recognitions & Accreditations
FORE has been recognised by acclaimed international institutes for its efforts in delivering education of the highest standard. Rennes School of Business in France, ESCE International Business School, Paris in France, Nanyang Business School in Singapore and other reputed institutes are all academic partners of FORE School of Management.
Faculty Members of the FORE School of Management are published authors who have brought their expertise and knowledge for the benefit of the students. Professors like Payal Kapoor, M.S Balaji, Simran Kaur Madan and Yangyang Jiang have published their findings in respected journals like International Journal of Contemporary Hospitality Management, International Journal of Online Marketing and the Journal of Social Marketing.
Student Experience
Students at FORE are given opportunities and freedom to experience learning of both academic and practical nature. Through events, seminars, projects and visits, they are given engaging activities so that they do not feel burdened by the weight of the education.
Multiple committees and events are organised by the students themselves so that they can learn the free nature of management as well as engage in their favourite co-curricular activities. FORE campus provides more than just the learning experience.
With many dhabas and hangout spots outside the campus, students and even the alumni have a place to interact and engage with their batch mates in experiencing life with euphoria. Other campuses like IIFT and IMI are in the vicinity which creates opportunities for students to engage with fellow management students outside the bounds of an institution.
Vision & Mission
Despite intense competition from leading B-Schools of India, FORE has managed to raise its standards, experience and education. With the vision to make the world a better place, FORE utilises knowledge from its creation to its sharing to achieve that vision.
FORE understands the role of management in the current business environment and its projected growth in the future. Therefore, its curriculum is designed to uphold the standards and match the industry requirement. FORE is always engaged in its mission to help students achieve and sustain leadership in management through education, research and regular development.
For every student or employee who wishes to step into the light and lead their way towards progress and development in the industry, FORE School of Management offers the perfect opportunity to start with the right step forward!
---