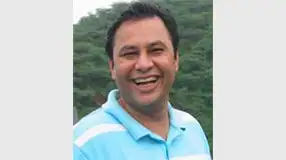 Arun Kumar Rao, WMG-4 (1995-1998)
Profile: Vice President, Sales - Dimensions Communications
Mr. Arun Kumar Rao talks about how the WMG program led him towards a fantastic career in media.
Mr. Arun Kumar Rao began his career in advertising and was already working with the reputable advertising company TBWA, when he decided to enrol for the Working Manager's Group at FORE School of Management, New Delhi. The WMG is the part-time PGDM program offered by the institute for the benefit of professionals who want to take their careers to greater heights. And that's exactly how things worked out for Mr. Rao, who, after stints with 9xm and Walt Disney Company, has joined Dimensions Communications as Vice President, Sales.

He is working with Magic of Cinema, a channel that was recently launched by the company. Working with the country's first cloud-based Hindi movie channel is an exciting proposition for Mr. Rao, who is relishing the opportunity. "I primarily look after associations, tie ups, advertising, and sales. Everything to do with revenue generation is what I look at," he says, describing his job profile. He also has to manage a team and monitor their progress to ensure that results are delivered.
But these challenges are not new for Mr. Rao, who admits that working and following his WMG program at the same time prepared him for the daunting tasks ahead. "It was quite demanding as I would make sure I got to my class at 6 pm", he explains. "There were times when I had to go back to work after the class was over. But it was all worth it because WMG helped me understand the basic cycle of brands including operations and profitability. I have used those insights in my professional life till date".

According to Mr. Rao, the WMG program is well integrated, which enables learning at every step of the way. He also thinks it's helpful for professionals because they can instantly implement their learning into their work. Industry-experienced faculty members also made things more relatable for them, admits the alum of Fore School of Management, Batch 1998. It's been several years since the batch graduated ? but they have still managed to keep their bond intact through Facebook and Yahoo groups.

As the years passed by, Mr. Rao managed to build on his career in advertising and moved to media sales. But he maintains that it was a natural progression as it kept him in the creative realm of things: "In today's dynamic market scenario one has to be on his toes and come up with ideas, which bring about quality and differentiation within brands. That requires creativity. Advertisers want creative ideas besides what they are doing to reach out to their target audiences in a more effective manner".

Mr. Rao has had a prolific career in media, which happens to be an area of interest for many aspirants today. Is there any advice he has for those who want to find a place for themselves in the field? He speaks from his experience, stating, "Media is a dynamic environment. It has evolved tremendously in the last decade and there are hundreds of publications and TV channels across the country. Digital space is growing and has become more challenging. Hence, one has to be patient and innovative, because there is no proven model in media."

As a team leader, that's the attitude Mr. Rao looks for in his staff when hiring them. He often looks for professionals who are willing to experiment and are ready to do anything to deal with a situation that arises. "Those who always look for short cuts often have a short career span as well," are his important last words.