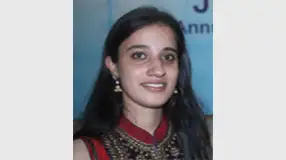 Gayatree Anand, FMG-17 (Batch 2008-2010)
Profile: Chief Ministers Urban Leaders Fellow, Delhi Government.
FORE alum Ms. Gayatree Anand wins the Public Contribution award at Jubilate 2014; highlights her journey from the domain of finance to thought leadership
Ms. Gayatree Anand, FMG alum from FORE School of Management, New Delhi had a homecoming to remember as she was presented with the award for Public Contribution at Jubilate 2014. As is the tradition, these awards are presented to alumni who are outstanding ambassadors for the institute, taking its values of entrepreneurship, leadership and social awareness into the real world. Ms. Anand has definitely done that as a Program Manager with Absolute Return for Kids (ARK) where she handles a school quality assessment project for the Government of Madhya Pradesh.
At present, the program is reviewing 2000 schools and will be rolled over to the entire state. Talking about the program that is winning her recognition, Ms. Anand says, "Quite simply, we enter schools and assess them so that we can make them better with the cooperation of the school staff. It is a collaboration with the government, and the project is about six months old. But everyone is working hard and we are already seeing results based on the work carried out after our reports. It's encouraging and we will roll it out in Delhi as well."
Besides the government of Madhya Pradesh, there are bodies like NEWEPA that are involved in the project. But, one would like to know what it was that got Ms. Anand involved in the project in the first place. Her response outlines her transition from the family business to ARK: "After FORE School of Management I worked as a Financial Analyst for about two years, as we have a family business in Finance and Real Estate. Post that I joined Teach For India as a Fellow and taught 45 Grade 2 and 3 children for about two years." It has, to say the least, been an interesting journey for Ms. Anand since her time at the institute. She believes those days paved the way for her, and reflecting on the ride so far, she says, "I wanted a corporate career initially, so I entered the Finance sector and was quite successful at it. But I knew my heart wasn't in it. When I switched to education, everything I had learned at my institute, be it communication or marketing, I was able to put to good use." She further adds that the brand value of FORE School of Management helped her get access to many different places, which was a big plus.
Undoubtedly, Ms. Anand is proud of her association with FORE School of Management and believes that the Alumni Association is a step in the right direction for the institute. "I have been a part of the alumni network and it has grown much stronger. As I look around at the awards function today, I feel very proud," she says, fondly. "I feel the alumni will find it easier to reach out to the institute and it will add further to the brand. As for me, I am honoured to win this award but it's just brilliant to be able to come back to the institute."
Ms. Anand considers herself lucky to be able to collect the award in front of her parents, as well as the professors from the institute who played a major part in moulding her career. While she is all praise for the classroom learning during her program, she highlights the fact that FORE School of Management, New Delhi offers a holistic learning experience to students, which is truly special. Her final words to students at the institute are, "Don't be in a job that feels like a job; do what you love. Follow your passion; money, success, etc. will follow."