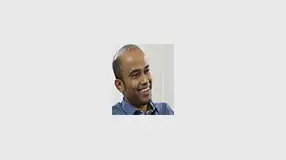 Pramit J.Nathan, FMG-3 (1994-1996)
Profile: Director of Strategy and Branding, Creative, Inc.
Alumni award recipient, Pramit J.Nathan, stands as an example to others On October 13, at Jubilate 2013, the Foundation of Organizational Research and Education (FORE) School of Management, New Delhi alumni got a chance to meet in a festive atmosphere that proved conducive to networking with those both familiar and unfamiliar.
As is the ritual, an awards ceremony was held to recognise those alumni who stood as illustrations of FORE School of Management's core values of leadership, entrepreneurship, and contribution to their alma mater. Pramit J. Nathan was honoured both for his contributions to the FORE School of Management, New Delhi and his reflection of the ideals taught to him while there.
Pramit, currently the Director of Strategy and Branding at Creative, Inc., graduated from the FORE School of Management, New Delhi in 1996 and has been actively involved with the institution ever since. In his roles as businessman and proud alumnus, Pramit has achieved success by applying the ideals he learned at the institution with his own personal drive to better the world around him. Even though he was an officer with the Government of India while at the FORE School of Management, the institute's emphasis on entrepreneurship struck a chord with Pramit. As such, he struck out on his own after graduating. This enabled him to marry his business goals with his desire to make a lasting contribution to the community. This balance between business and contributing is something that he attributes to his time at FORE School of Management, New Delhi: "I think the education that one receives from a B-school like FORE gives a person the ability to go beyond their strengths and make a contribution to society by giving back to it."
Capitalising on his strengths, Pramit has managed to excel in his chosen profession. Whether meeting with clients to discuss their individual needs for his company or commenting on the challenges faced by the younger generation who are just now entering the business world, Pramit has a keen eye for the way the business and academic worlds work. It is this attention to what is happening around him that made him an excellent candidate for the award.
Not one to rest on his laurels, the award Pramit received at Jubilate has only served to push him to strive for more: "You should not get an award for contributing to your alma mater; in fact, you should get more responsibility. I can only say thanks for the recognition, but there is still much more to be done. I was President of the last governing body of FAA, and I really think there is still more to be done. As such, I will try to take this forward."
Given the ambition and humility that is exemplified by Pramit, there is little doubt that he will make good on his word. If the Jubilate event was meant to bring the alumni together, then Pramit's award stands as a testimony to what an individual can accomplish and how they can help lead the FORE School of Management, New Delhi into the future.