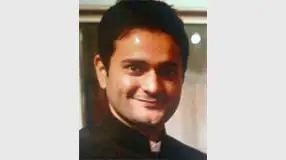 Mr. Saurab Saharan, IMG 4 (2010- 2012)
Profile: Director, HCBS development Pvt. Ltd.
Saurab Saharan and HCBS Development Pvt. Ltd. – the company where he is a Director – have two things in common; both have just started out, and both have a burning desire to make it to the zenith. A pass-out of the 2012 batch of the FORE School of Management, Saurab Saharan feels he needs to drive the growth in HCBS, not just to show his worth but the immense value of FORE School of Management as well.
"FORE has given me more than can be put in words; not just in terms of management, or soft-skills, but in terms of the right business ethics as well. I intend giving back to FORE School of Management as best as I can. As a company HCBS Development Pvt. Ltd. has just started its journey in real estate development. Till not very long ago, we were dealing primarily in licensing. But now, we have few projects in our hand. One of them is a project at Dwarka Expressway road, Gurgaon, which is pretty huge, all things considered. As and when we go into Sales and Marketing overdrive, I will try and recruit from the passing out batches of FORE. Not many B-schools provide the kind of 360-degree vision that FORE gives its management students."
A Computer Science Engineer, Saurab worked for more than an year as an Engineer withAccenture before joining FORE School of Management. "I had applied to many colleges and I had appeared for GMAT as well. My primary reason for choosing FORE School of Management was that I wanted the best B-school in the NCR region to do my MBA from. After going through various media and talking to a few of my friends I was able to zero-in on FORE. FORE has a formidable history and reputation, and the FORE alumni is a great network to be a part of." Understandably, Saurab's work revolves completely around meeting people - contractors, marketers, financiers, Charted Accountant, government officials etc.
"Basically, I have to talk to them, understand them and listen to their issues and their perspective and plans. For instance, there are back-to-back pitches stacked up in the next couple of weeks. To be able to understand the viability of these projects – which project would be better in terms of markets, which market is worth investing in, what are the returns like etc. we need to tap into a wealth of information that can only be gathered by talking to the right people. If there is a project coming up in Chandigarh, does it have a market to support it? Should we invest there? Once this is done, the construction and marketing part are third party matters. Basically it's the inception of the project that I'm responsible for."
Saurab Saharan advises his young colleagues at FORE School of Management to gain real estate basics with a well-established organisation before playing for bigger stakes. "It's a funny field actually. You need to understand and practice a lot of things that you are not taught in MBA schools. It involves lot of sources to get your work done, which makes it difficult if you are fresher. It is therefore advisable to join a good company… an established one like DLF."
Saurab Saharan cautions his fellow FORE'ians that there is lot of competition in real estate and it's a very tough field. Only if one is willing to work long hours, seven days a week, should one join it. He believes that students of FORE School of Management are well groomed to take on the challenges of the real estate industry, and enjoy its "more than satisfactory" rewards.