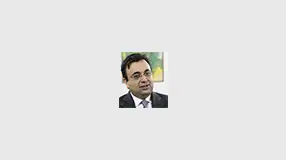 Kunal Khattar, FMG-2 (1993-1995)
Profile: Investerprenuer and Founding Partner, AdvantEdge Founders
Kunal Khattar,a FORE School of Management alumnus, talks about his award-winning homecoming After a successful career stint in Los Angeles for a decade, Kunal Khattar has had a homecoming to remember. He is the Co-founder & VP of Carnation Auto, a business that is going great guns. But for him the true homecoming was when he went back to FORE School of Management, 17 years after it all started for him in the very same institute. And the proud alumnus of FMG 1993-1995 Batch was felicitated with an award for his Entrepreneurship Skills at Jubilate 2013.
The much talked-about annual meet of the institute is back with the Alumni Recognition Awards from last year. Mr. Khattar was given the award this year for his entrepreneurial abilities, which have made his current business a big success. "I think this is the recognition for the foundation that this organisation has given me. That foundation has allowed me to achieve some level of success, so getting appreciation for it feels good," says Kunal Khattar, talking of the platform that was created for him at the institute.
Mr. Khattar has charted out a glorious career for himself over the years but he attributes it to a great extent to the education he received. "Education is the biggest investment you can make for yourself. Education is much more than just learning; it shapes who you are and prepares you for what is out there," he says. After acquiring his degree from FORE School of Management, Mr. Khattar landed his first job at Vodafone. But after working there for over three years, he felt there were opportunities for him to grow further and spread his wings. That was when he enrolled for his second Masters at Northwestern University. He then worked in the US for a decade or so before coming back to India and starting his own company.
Mr. Khattar seems like a man who has always followed his dreams and made his moves at the right time. "What prompted the move back to India, though", you might wonder. He is practical in his approach when he says, "Working for ten years in the US allowed me to experience various organisations, from consulting to technology. I always sought new challenges and by 2008 I had started thinking about doing something in India. I wanted my two young sons to be grounded and to know their culture."
So it was a combination of personal reasons and the urge to start something new back home in India that prompted his decision. Carnation Auto is Mr. Khattar's third start-up and is something he is quite attached to. The thought of moving back to Los Angeles doesn't cross his mind after an "interesting" five-and-a-half years in India. "My kids would love to move back but I have a commitment towards my colleagues, my investors and myself. The day I stop learning and feel I cannot contribute to the company, I will start thinking of moving back," he states with great clarity.
Mr. Khattar is of the opinion that exposure to international markets is important for management students. It was another contributing factor in his pursuing a career that moved beyond national borders, according to him. He explains, "I worked in a different environment, which helped me a lot. More than anything else, it is important to prepare students to be global citizens. Exposure to the real world is also the key and FORE School of Management did a great job of that when I was here. I am sure they are doing a great job today as well."
On a parting note, we ask him if any of his college memories were refreshed after coming back to the institute after a long time. "When I was studying here, we couldn't understand the need for Yoga in the curriculum. But now when you become mature, you know how important and valuable it is for everyone," he ends.