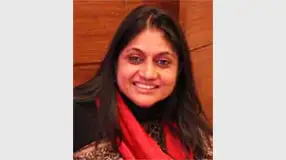 Ritu Bharti, WMG - 4 (1995-1998)
Profile :Director - Personal Banking, NatWest Group
Ms. Ritu Bharti, a renowned name in MNC banking, talks of the huge contribution the WMG program made to her impressive career
"FORE School of Management, New Delhi has made a huge contribution to where I am in life today. It's not just the learning experience, but also the alumni, friends, peers, and colleagues whom I reach out to professionally for advice. It has given me a support system for life," says Ms. Ritu Bharti, Vice President - Head Service Delivery & Client Engagement, The Royal Bank of Scotland NV. Coming from an accomplished professional with 18 years of experience in the industry, this praise speaks volumes of the role the institute has played in her career.

Ms. Bharti attended the Part Time PGDM program of FORE School of Management, popularly called the Working Managers Group (WMG), with the institute, which gave her momentum in the early stages of her now prolific career. Her professional beginning was rather humble though, as she worked as a Customer service executive with Bank of America. But things changed rapidly as she began her management program. "It was a practical decision to not jump into an MBA program right after my graduation", she says. "It gave me the opportunity to study while I had a job and it worked out well."
Interestingly, itis the same advice she has offered her 17 year old son, who has several options ahead of him. "I have told him to devote this one year to academics and if he wants to take a break the next year to get on to projects to assess his strengths, then he should. Sometimes in the rush of acquiring degrees we do not take stock of our own strengths, which can be extremely critical," say Ms. Bharti. Clearly she's talking from experience, having found her own strength in MNC Banking and Outsourcing.

But handling her professional responsibilities and managing her studies while she pursued her WMG program might have had its share of difficulties. Ms. Bharti merely shrugs and responds, "I was working with Bank of America, and they were quite supportive. I think most organizations would be encouraging of their employees pursuing further education because at the end of the day you are bringing talent to the organization. It's definitely a good investment."
If anything, managing two aspects of her life while studying likely trained Ms. Bharti for future challenges. After all, it can't be easy being a working woman professional at the top of her field, in addition to managing her home priorities. "You know, I was working the day I delivered my baby and a month later I was writing my exams for FORE School of Management," she says with a smile. "Everybody has to prioritize in their lives. It's about determination; if men can do it so can women," she adds.

Going down memory lane, Ms. Bharti is reminded of the support she received from her friends and faculty members at the institute. "I was lucky to be at the institute with a very successful lot of people", she recalls. "There were these young, dynamic professionals who would make brilliant presentations and it was quality exposure for me. I did not learn about market strategy from books but the people around me." With so many fond memories of her academic years, it's only natural that she continues to keep her bond with the institute.

It would be a waste to have an interview with an alumni with such an impressive list of achievements without seeking advice from her for students doing their WMG program at the institute today. Ms. Bharti says thoughtfully, "Anyone enrolling for the program should have their heart in it. You should not just study to sail through exams but to educate yourself for life. It will come handy in your future and you will always feel gratitude towards the program as I still do."