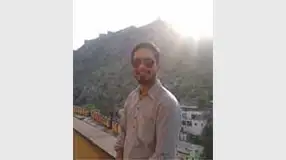 Abhishek Gier, WMG-10 (2001-2004)
Profile: Founder and Executive Director, Catalyst India
Mr. Abhishek Gier, a FORE School of Management, New Delhi alum, embraces the role of "Catalyst" with his NGO to better the lives of many Mr. Abhishek Gier was already working with an international HR firm, one of the leading Psychometric profiling agencies in India, when he joined the Working Manager's Group at FORE School of Management, New Delhi.
He admits that he dreamt of being a businessman, which is why he enrolled in the marketing program. But, things changed as he pursued his PGDM in the capital city of India and became aware of the harsh reality of the lives of the underprivileged right in the nation's capital. That was the turning point in his career that gave birth to the NGO- Catalyst, which he heads as the Director today. Discussing his interesting life journey since joining FORE School of Management, Mr. Gier says, "I became aware of the enormous need to contribute to the lives of the marginalized who we often tend to overlook. Getting into the rut of making money and seeking a higher position seemed insignificant. That's why right after my PGDM I joined an agency working on the UN's Millennium Development Goals (MDGs).
" For two years after that, Mr. Gier, along with his wife, focused on gaining experience working to improve the living conditions of women on the streets. As a result of their hard work and dedication to this important cause, Catalyst was born. Catalyst is an NGO that works with individuals and companies to better the lives of the underprivileged and marginalized. The group is involved with several businesses, including those in the Exports, Media and Hospitality sectors. One such company is Cross Stitch, a luggage company. The major aim of these companies is to generate employment for the underprivileged of the city in a fair and non-threatening environment. According to Mr. Gier, these individuals, despite being a part of Indian society, are almost invisible, even to the Government. And that's what motivated him to dedicate his efforts to make a difference in their lives. Women Empowerment remains in focus with this NGO.
Mr. Gier elaborates on this, saying, "A woman holds the key to a healthy family. If women are empowered, a family gets empowered; she stands against any injustice done to her." Given his beliefs, it's not difficult to see that the proudest moments for Mr. Gier are those where women have fought against all odds to make a place for themselves in society. "More than being proud of what I do, I take pride in the people I work for and with. Unlike my friends I do not drive a luxury car, but I know not just me but my friends are also proud of what I do," Mr. Gier thoughtfully says. However true that might be, it must have been difficult for him to turn his back on what could've been a flourishing corporate career in order to start an NGO. "It is a difficult decision to leave well-paid jobs and move to a social cause, but satisfaction levels are much higher," he says. "Playing your part in the positive transformation of others' lives gives peace and joy to ours.
" Mr. Gier might not have opted for a corporate career but that doesn't mean he hasn't made the most out of his learning at the institute. He believes the time management skills he learned at FORE helped him enormously. "FORE does strive to develop leadership qualities in all fields including the developmental arena, which I am a part of," he explains. "And theories of management are universal for all spheres in life, including running a non-profit organization." Mr. Gier understands that his mission might not be completed in a lifetime as the need is huge, but, as he says, "it's a drop in the ocean." But then again, that's how oceans are formed. Isn't it?