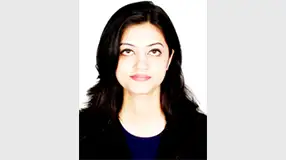 ASHIMA MANCHANDA, WMG- 18 (2009-2012)
Profile: Assistant Marketing Communications Manager, Hilton Garden Inn, New Delhi/Saket Hotel
Have fun, don't take life that seriously but work hard advised Ashima, FORE School of Management MBA grad Ashima Manchanda. Ashima came to FORE as a working professional and kept working full-time throughout her course.
She remembers being often late for class because she had to finish up at her job before coming to school and remembers convincing professors because attendance was very important. At the same time she notes "I think discipline is very important while you are working and meeting your deadline. FORE emphasizes a lot on discipline. It helps me now in more ways than I could think at that time."
Ashima has high praise for FORE and the fact that it offers a program that allows students to work while they study simultaneously. "I think FORE itself is a brand, everyone wants to get associated with FORE," she said. "To say you have done your MBA from FORE means a lot."
She chose FORE because under its executive program she could work simultaneously, it gave her the extra edge because applying your practical knowledge from work in subjects became easier and definitely made more sense. We have very few colleges which offer such an excellent program but she feels it will become a growing trend in the coming years.
The program at FORE is structured "very well" said Ashima. "They give a lot of emphasis on practical learning in the course because they know that we are working and our experiences and requirement are very different than fresher's."
Ashima comes from commerce with mathematics and communications background, working first as a finance support for SAP at Agilent Technology, then as executive assistant to the general manager at Hilton Garden Inn and then moving into marketing and communications at Hilton Garden Inn. Her current position includes developing and implementing the communications and media relations program for the hotel; developing and implementing all advertising, promotional, and marketing and PR campaigns for the hotel; establishing channels to manage media and internal communications and developing all written material, newsletters and monitoring various online channels for the hotel.
She says the first thing a student needs to get into this particular field is creativity and second is networking. "You have to be confident and have the right attitude towards life". Your passion towards communication gives a better edge undoubtedly." As a graduate of FORE School of Management, she is also impressed with the way the school keeps involving and interacting with the alumni. "We have an amazingly strong alumni database and it feels great to know that the school cares even after we graduate. We are consistently updated, informed and invited to various events in the college and it gives me immense pleasure to see FORE utilizing the alumni space."
"I think Fore Alumni association is doing a fabulous job," remarked Ashima smilingly, citing the annual Jubilate festival, where alumni are invited back to campus. "Calling each and every alumnus individually is commendable. "It is a proud feeling to be associated with FORE."