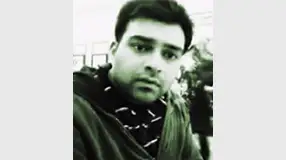 Abhishek Sachdeva, FMG (2002- 2004)
Profile: Vice President- Retail Sales, Anand Rathi Global Finance Ltd.
Everything about Abhishek Sachdeva tells you that he is a seasoned entrepreneur. Abhishek, a pass-out of the 2004 batch of FORE School of Management, keeps a sharp eye on expenses, has the patience of an Angler, and is not at all averse to risk. So it does come as a surprise when you are told that it has only been 7 months since he launched IndiPetShop.com - his maiden entrepreneurial venture. "Entrepreneurs are basically aggressive go-getters with huge ambitions and goals, who are not afraid of making mistakes.
To quote the California State Senator Roy Ash - An entrepreneur tends to bite off a little more than he can chew hoping he'll quickly learn how to chew it. We prefer 'thinking on our feet' to sitting down and evaluating the scenarios. There are many knowledgeable people out there, but the entrepreneur is the one who's able to take the plunge, and is constantly plugged-in to real-time data to evaluate the scenarios." Abhishek, an avid 'pet parent', joined hands with a series of pet lovers to start up IndiPetShop.com – an online pet store committed to providing a better and healthier environment for the pets in the country.
IndiPetShop.com provides products, services and advice that make it easier for customers to be great 'pet parents'. Abhishek typically starts his day by taking stock of the progress in sales, and engagement through various online marketing channels like social media, e-mailers etc. He then focuses on the day-to-day operations like order fulfillment of customers, placing orders for new stocks with vendors, and planning marketing channels for new customer acquisition. Abhishek makes it a point to dedicate some time everyday to perspective planning, along with his team.
"The decision to turn entrepreneur was no doubt challenging. In the tough economic scenario, leaving the security of a cushy job as Senior Manager, Loylty Rewardz, was made tougher because of personal commitments. Without support from family and friends, it's impossible to execute this kind of a decision." Abhishek believes that when he stepped out of FORE School of Management, he was 'both prepared & unprepared' for the rigours of the corporate world. "My memories of FORE School of Management include the numerous times we burnt the proverbial midnight oil in preparing our reports.
I remember the endless discussions in the 'Sunken Garden', especially the agreements/ disagreements over trivial topics while beating out our Presentations. FORE School of Management empowered me with the complete skill-set required to ascend the corporate hierarchy - analytical skills, looking at the macro-view of things, communication and presentation skills. But since I had no work-experience before doing my MBA, I was unaware of many aspects that you can only learn in the real world.
In a way it also was a great advantage, as I learnt the right way of doing things, before seeing how they were actually done." Abhishek's 8 years prior to entrepreneurship spanned a variety of industries and roles from Retail (Pantaloons, Future Group), to Consultancy (Trammell Crow Meghraj) and, eventually, the Financial sector with CitiGroup & Fullerton. Abhishek believes that post the global meltdown of 2008 - uncertainty is the new certainty across all businesses. "The curriculum at a top B-school like FORE School of Management is sufficient, but the professional world is tougher now. If you have similar skill sets compared to your competitor, only the candidate who is able to cope up with on-the-job pressure - and is persistent and patient - will make good progress.
For those of you keen on entrepreneurship, develop a good appetite for risk, all-round knowledge about typical business scenarios, and a strong ability to focus on the ultimate business objective, while going about daily functions." He reminds his juniors to constantly tap into the most valuable reserves at FORE School of Management – the Faculty. "They have seen the professional world up and close. They will be able to tell you how a case study might change from organization to organisation. It is this perspective which is priceless."