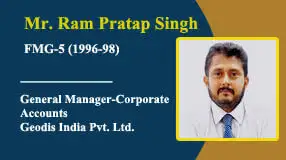 I would try to address this point in the simplest form directly from my heart, no textbook language.
I might be one of the few FORIAN or maybe THE ONLY ONE from my batch of 1996-1998 who decided not to follow the conventional placement companies from the campus and choose to venture into an unconventional industry ( Logistics/Freight/Transportation ) in 1998, 02 Decades back when everyone wanted to choose a very safe career / reputed company and renowned & established verticals/industries like - FMCG, Banking, Automotive, Consultancy, Market Research Firm, etc....
I am proud of my decision taken 02 decades back into the logistics industry, it has been a great journey working from a small time Indian company to overseas countries in Middle East to a US company and now a European company.
Today Logistics industry is the backbone for almost every organization, during Covid-19 the only industry which could support the movement of Pharma/Healthcare and essential goods amidst all possible challenges of Pandemics - no passenger aircrafts, limited shipping lines , lack of shipping containers, the entire supply chain impacting the production, transportation and last but not the least sales, nevertheless this industry kept on moving and evolving from various restrictions and all possible challenges to support the movement of PPE kits, masks, vaccines and still going on to work on all possible solution to transport & store the Covid-19 vaccine once developed further under extreme temp. requirement which were earlier not available and being tailor-made for the future, getting a flavor of not only India but the Globe in totality.
This is one industry which has helped me touched almost all industries/verticals/sub-verticals in the past 22-23 years from :-
-FMCG
-Automotive
-Industrial / Chemical
-Aviation
-Fashion & Retail
-IT industry
-Hi-tech / Electronic
-Consultancy, etc...
The small key message is to follow your gut feel and do it passionately, you will succeed, not to follow others path but make your own path !
An MBA / higher education gives the overall perspective but making the degree useful is to utilize the acquired skill sets during these 02 years into a future for self and others. I am very Thankful to FORE SCHOOL and take a lot of PRIDE is telling everyone that I am from FORE SCHOOL.
Every Industry is unique and what brought me here gives a great sense of pride, today I don't feel that if I was in some other industry than i would have been better as have been working with all industries and feel a complete sense of satisfaction.
Hope this message motivates the new generation !