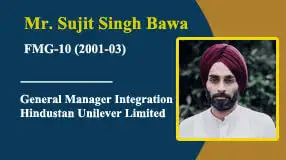 Mr. Sujit Bawa
Batch: FMG-10 (2001-03)
Profile: General Manager, Uniliver.
1. What was your first reaction when you walked through the gates of FORE?
My feelings when I walked through the gates of FORE were a mixture of excitement, aspirations, nervousness, and realization. Excitement because I had made it to an institute with the legacy of FORE, aspiring because I walked into the campus that would bring me closer to my dream. Nervous about taking one wrong step and what if I lose it all, and realization that this is it; this is my moment and I have to seize it with all I have.
2. As one of the Top 10 students of your batch, what was your hack to cope up with the challenges of an MBA?
Consistency in everything. One of the biggest mistakes that most people make is that they leave too much of the course material to be covered in the last minute; in our case, the last night before the exam. However, given the vastness of the subject, it is important to take a part-by-part approach than covering the entire study material one night before, and feeling overwhelmed by it.
3. Walk us through the day of your final placement. What was going on in your mind?
A multitude of thoughts actually. Of course, there was the consistent fear of not getting placed, what if I'm not good enough. Nevertheless, I had my preparation in place, and with the continuous support of the placement committee, I landed my dream job.
4. 16 years at Uniliver, that's quite an achievement. What's your secret for sustenance at a competitive FMCG brand?
There is no secret to success, I'll address that. The only way to pave your way through any competitive corporate is discipline, dedication, commitment, and hard work. These are the values that establish a strong foundation that can help to simplify the road to professional excellence.
5. What do you feel are the loopholes in the existing business environment in India?
The world is undergoing a massive technology-driven drift wherein previously deemed fancy words such as automation and artificial intelligence are becoming a part of everyday conversations. However, India is still unfamiliar with the true potentials of these up-and-coming technologies. There is a growing need for upskilling the existing workforce in these advancements, something that I believe can be bridged by management schools.
6. If you could give one piece of advice to your younger self from FORE, what would it be?
This exhausting curriculum might seem like a pain right now, but these will only shape you to become a better business leader in the future. Just keep doing your best.