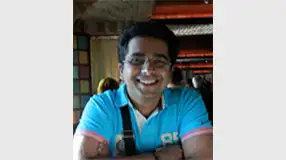 Shashank Sachdeva, IMG-2 (Batch 2008-2010) Profile :Owner, Sachdeva Fabric Pvt. Ltd.
"I think financing a new business could be an issue for aspiring entrepreneurs"
An insightful conversation with alumnus Mr. Shashank Sachdeva, FORE School of Management, explaining what it takes to make it in the business world
Coming from a business family, Mr. Shashank Sachdeva had every intention of becoming an entrepreneur. He had already completed his B. Tech in Textile Industry as it was perfectly aligned with the family business of fabric manufacturing. But he was keen on boosting his skills and enriching his personality. That's the reason he came to FORE School of Management, New Delhi to join the International Managers' Group (IMG) program. According to him, it was an experience filled with opportunities.
Going down memory lane, the alumnus from the Batch of 2010 says, "When I joined the institute I knew that you need to have your basics right and get some kind of exposure before getting into business. Overall, I had a good learning experience at FORE School of Management, New Delhi. There are definitely more opportunities there that students can learn from. I, for one, could have certainly taken a lot more from the institute." However, he is grateful for the immense exposure he got during his time at the institute, since it continues to help him today. Over time, he has built upon this learning experiences and taken advantage of the many opportunities that the institute offered. The result has been an impressive business career. In fact, he tried to move into unchartered territories with the family business, which is a move that has paid off. "I started exporting to European countries and the business is in a much better state than it was when I had joined," he says.
Today, Mr. Sachdeva, now the Marketing and Technical VP of the company, is continuing to excel. But, he remains humble and acknowledges the fact that things were easier for him because the family business was already set up and offered him a solid platform. "If I didn't have that, I'd think financing a new business could be an issue for aspiring entrepreneurs," he admits. "Making people in the market trust you is another issue that one could face. But, thankfully, I didn't have to go through that process."
The business is based out of Delhi and has different members of the family looking after various aspects of running the company. Mr. Sachdeva says with refreshing candour that he still seeks advice from seniors in the family when he has to make a major decision. It seems like a sound strategy but he also attributes it to the fact that he had no work experience before joining the company. "Books and presentations help you learn things, but you gain so much from real experience as well," he says.
He also has final words of encouragement for students, as he says "Whatever you do, give it your best shot."