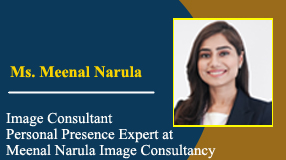 Meenal Narula
Profile: Image Consultant | Personal Presence Expert at Meenal Narula Image Consultancy
1. What is your favourite memory from your time at FORE?
I cannot pinpoint any one memory, in particular, every moment spent at FORE was an incredible experience. My favourite times were perhaps all the cultural festivals and seminars that I attended during my time. I was always an enthusiastic participant in several committees and I enjoyed meeting and interacting with people from all walks of life during such events.
2. If you could describe your experience at FORE in one word, what would it be and why?
Fascinating! I initially chose a career in Management because I wanted to hone my management skills. However, it was at FORE that I discovered more about myself and my real passion in life. It was the lessons I learnt here that had equipped me with the knowledge and the skillset to start my own venture. Without the environment and guidance that I received at FORE, it would not have been possible for me to take that plunge.
3. When did you decide to take the plunge towards starting your own venture?
I got placed in Sales in a start-up and worked there for a little more than a year. Here, I was interacting with new people round the clock, and in every meeting, I found myself learning more about persuasive and interpersonal communication, self-presentation along with the importance of listening. It was a great learning ground.
But I learned another thing about me here - I wanted to have my own venture. I realized what made my heart sing. The answer to this question led me to venture into image consulting and soft skills training and I quit my job to pursue a career in it.
4. What made you pursue Image Consulting?
I remember winning an inter-school debate competition in 9th grade and next year we had to choose a different person to represent our school. The teacher appointed me to help the chosen girl prepare for it. It was only while helping her draft her script, rehearse, and even while rooting for her in the audience that I realized I wasn't helping her because I was asked to. Rather, I had started enjoying the process. The confidence that she exuded on stage and the tight hug that she gave me after that. That feeling, that fulfillment fuelled my passion to help people recognize their potential. This incident played a key role for me to pursue Image Consulting.
5. What has been the biggest lesson that you've learned from your entrepreneurial journey?
Patience and perseverance are the two lessons that I have learned during my time. There were several moments where I thought I'd give up. However, I believed in myself and here I am.
6. What's your advice for budding entrepreneurs?
Never stop the grind. Things might seem impossible, even far-fetched. No dream is impossible to achieve if you start acting upon it.