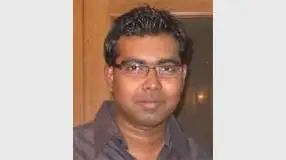 Sandeep Balan of FORE School of Management's Tryst with Write. Camera. Action.
"Films have always excited me. And books have always been my constant companions," says Sandeep Balan, a graduate from the FORE School of Management (Batch 2005-07) who opted for marketing as his specialisation because he wanted to be involved with the exciting communication pieces that iconic brands put out.
Recalling his journey from a management graduate to winning accolades and writing a short film during his flourishing corporate career, Sandeep says that everything was possible because he found the time to follow his passion for writing. This desire was influenced by his father's transferable job – this meant that books and films were his constant companions as he lost touch with his friends every time his father moved, he explains. And at a time when there was no Facebook or social networking as we know it today, this meant no distractions either.
Luck also played a big part in his journey as a writer when he was asked to join the Digital Marketing team at Idea Cellular right after his stint at FORE. This move fuelled his passion for storytelling as he began to create brand engagement through the digital medium, in which there is an emphasis on conversation and not just communication.
Moving on to Star TV after close to four and a half years with Idea, Sandeep found himself amidst writers who were churning out daily soaps. This helped foster his knack for storytelling and gave him invaluable experience as a marketing professional. Looking back, he says he found the whole process from ideation to creation a fascinating one.
United Breweries Ltd. was his next move after a year with Star TV, and here he heads the Digital Marketing space. "I feel I have done some of my best digital work here till date. At UBL, we put a lot of emphasis on creating the 'money can't buy' experience for the end consumer. Our campaigns attempt to tell memorable stories," he explains, adding that he has been lucky to have worked with some fantastic team members and in an ecosystem that is "conducive to great work, because of the freedom that top management gives us to execute our ideas."
Being able to keep up with his enthusiasm for writing meant that Sandeep could develop a script for a short film titled 'Half Ticket' in his free time. "I was into writing short stories from my high school days and I would first test them on my sister to get her reaction. And my parents were always appreciative and would keep encouraging me to write more," he says."New age platforms, like blogs etc., only made it easier to keep writing and get feedback, sometimes really harsh comments, from random people. They don't know you and hence may not have good things to say about your story. Feedback, good or bad, is always important and helps you reflect on your work" So, when he eventually wrote the script for 'Half Ticket' and wanted a critical review of his work, he asked his wife Naishy, also a FORE alumnus, to read the first draft.
"She gave me a lot of feedback on a couple of scenes and pointed out a few loopholes, which I hadn't thought through initially. That, along with all the feedback I got from my team members at the workplace, helped me to fine tune the final script," he says.
The response to the short film was overwhelming. Naveen Kasturia and Gunjan Malhotra put in fabulous performances in lead roles and took the film to extraordinary heights. 'Half Ticket' raced to a Million views on YouTube in a couple of weeks since its release and over 8 Million views on Facebook. The fact that it was shot very well and had great production value also helped. But success comes with its own pressures, and for Sandeep these are replicating the magic of 'Half Ticket' with each new film he creates.
For now, however, he seems to be the man with the 'golden touch.' The man who has seen several awards coming his way, including the Aditya Birla Chairman's Award 2010 in the 'Young Achiever' category and the CMO Asia Star Youth Achievers Award 2014 from the Global Youth Marketing Forum. He was also the youngest candidate to be featured among eight futuristic brand heads of India by a leading social media blog.
Looking back at his professional graph and his days at FORE, Sandeep admits that the B-school was instrumental in moulding his career. "I wrote and directed plays, made corporate AVs for the college, made short films as part of academic presentations, contributed stories as a member of FOREword," he says, elaborating on all of the activities that helped him achieve success. And, with a laugh, he tells us that most of the short films were set in our room or the hostel corridors. Things have certainly progressed from there.
Looking back on the films he created as a student, he remembers when his batch screened the premiere of a crazy short film he and his friends had created the night before their farewell party. "It was an insane script, a hilarious superhero story made possible by my awesome friends who brought it to life. It was meant to be our final sign-off to our batch and the juniors. We had a blast. It was our last night out at FORE," says Sandeep. However, he adds, apart from the fun and the classes, an important quality he learnt at FORE was time management. He could never have "otherwise dreamt of finding time to write a short film" while he was working, he acknowledges.
Today, Sandeep affirms that the prospect of a one-on-one marketing interaction that social media brings to the table is both exciting and challenging for new age marketers like him. A challenge that makes working in the digital marketing domain both fun and exciting.