NEP 2020- Changes in HEI with focus on Faculty Development
Dates: 4-day, Feb 6-9, 2023
Programme Director: Prof Sanghamitra Buddhapriya & Prof Neeraj Kumar
Mode: Online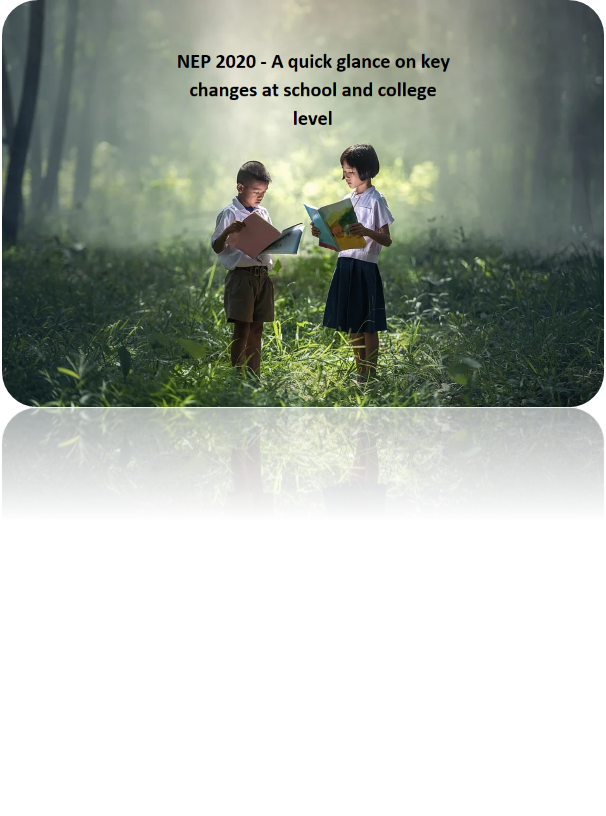 Introduction
Although India's higher education system is one of the world's largest, it faces numerous challenges, including quality of teaching and learning, lower graduate employability, public-private partnerships, entry of foreign institutions of higher learning, increasing research capacity and funding, poor governance and complex regulatory processes etc. Despite significant efforts over the past two decades, to meet growing demands in higher education, newer challenges continue to emerge, often because of the actions of an increasingly informed and demanding population. The National Education Policy (NEP 2020) takes a comprehensive look at these challenges to higher education system in India and provides a roadmap for meeting the challenges including creating an ecosystem for improving quality of teaching, learning and research.
Objectives
This programme has been designed to familiarize participants with challenges and changes in higher education in India as brought out in NEP 2020, with particular reference to the teaching and learning methodology, research promotion, institutional governance issues and, most importantly, the manner in which these impact the development of faculty.
Contents
Current issues in Higher Education and Policy directions as identified in NEP – 2020
Restructuring of HEI- implications and challenges
Induction of Multi-disciplinarity in Higher Education – objectives, impact and challenges
Promotion of Indian Art, Culture and Languages
Online and Digital education- Technological Interventions
Changes in regulatory structures and systems for higher education and professional education
Creating a supportive and student-centric learning environment – role of HEI and faculty
Faculty – development and capability building – role of HEI and Faculty
Promotion of academic research – implications for faculty
Pedagogy
Program would be delivered online: 12 Hrs, 4 days' x 3 Hrs, Sessions would be delivered through interactive lectures & discussions
Who Should Attend
Faculties from colleges, universities, institutes for technical and professional education
Research scholars, Doctoral students seeking a career in academia
Managers, Administrators from universities, deemed-to-be-universities, technical institutions, engineering colleges, colleges, standalone institutions, business schools, and EdTech Companies
Program Dates and Timing
Dates : 4-day, Feb 6-9, 2023
Timing : 2:00 PM- 03:15 PM 03:30 PM- 04:45 PM
Program Duration : 12 hours (spread over 4 days)
Professional Fee of the Program
| Particulars | Fee for Online |
| --- | --- |
| Faculty Members | INR 2360 |
| Student/Research Scholars | INR 1180 |
| Corporate Executives | INR 4720 |
| Foreign Participant | USD 50 |
GST @18% included in fee amount, as applicable
Program Director
Dr. Sanghamitra Buddhapriya
Prof. Sanghamitra Buddhapriya is a Professor in the Department of Organizational Behaviour and Human Resource Management at FORE School of Management, New Delhi. She has more than 26 years of experience in research, teaching, training and consulting. She received the University Gold Medal for securing First Class First Position in M.A in Personnel Management and Labour Welfare. She is a PhD from Faculty of Management Studies, University of Delhi. She received the Prestigious Shastri-Indo Canadian Faculty Research Fellowship and did her Post- Doctoral research from McMaster University, Hamilton, Canada. Her research interest lies in mentoring relationship, diversity management, and gender issues in management, work-life balance, and stress at work. She has authored two books and published many research articles in referred national and international journals. Prof. Sanghamitra conducts open and in-company management development programmes across level for leading public and private sector organizations like Engineers India Ltd, Powergrid, ONGC, IOC, OIL NHPC, MMTC, SAIL, THDC, NBCC, LNG Petronet, Sentiss Pharma, ITD Cementation to name a few. She enjoys conducting management development programmes on wide range of topics like leadership, team building, motivation, emotional intelligence, work-life balance, gender sensitivity, mentoring and coaching, interpersonal skills, managerial effectiveness, organizational culture, problem solving and decision making, creativity and innovation. She was selected as a resource person for training women civil servant on gender issues in management. She is also the Dean (Academics) at FORE. She can be reached at <sanghamitra@fsm.ac.in
Prof. Neeraj Kumar
Prof. Neeraj has a total of 35+ years' experience in industry, consulting and teaching. He worked in the HRM function of Steel Authority of India Ltd for 23 years and has been a member of faculty at FORE since 2008. Experience in industry includes all major functions of HR like Employee Relations Management, Performance Management, L & D and Organization Development. Was instrumental in design and implementation of many systemic changes in SAIL. As a part of international consultancy assignment, was a part of a core team that did a diagnostic study in the ailing Egyptian Iron & Steel Industry. He was also a part of a consulting team that recommended changes at Vishweswaraiyya Steel Company Limited (Bhadravati, Karnataka) and Iron and Steel Works (Kulti, WB). An experienced trainer, he has designed and delivered customized MDPs in a large number of public and private sector organizations including NTPC, BALCO, Airtel, Maruti Udyog, METSO Minerals, Motherson Sumi, Siemens, Punj Lloyd, Capgemini and many others. He has co-authored a text book on Employee Relations Management.
About Fore School of Management
FORE School of Management, New Delhi is a leading business school in India. The institute offers the following programs: PGDM, PGDM (IB), PGDM (Financial Management), PGDM (Big Data Analytics), PGDM (Executive), and Fellow Program in Management (FPM).
The programs are approved by the All India Council for Technical Education. The PGDM and PGDM (IB) programs at FORE are accredited by the National Board of Accreditation (NBA) and are equivalent to MBA as granted by the Association of Indian Universities (AIU).
FORE School of Management has also been granted SAQS Accreditation for a period of five years with effect from December 2017. FORE School of Management has institutional memberships of India Habitat Centre, New Delhi; Asian Regional Training and Development Organization (ARTDO) International, Philippines; Association of Indian Management Schools (AIMS), Hyderabad; National HRD Network (Delhi Chapter); Associated Chambers of Commerce and Industry of India (ASSOCHAM), New Delhi; BRICS Chamber of Commerce & Industry, New Delhi; National Science Library: National Institute of Science Communication and Information Resources (NISCAIR), New Delhi; American Center Library, New Delhi; The Case Centre, England; and, the United Nations Global Compact Network India, among others.
FORE School of Management also has academic partnerships with leading institutions including the following: Rennes School of Business, France; ESCE International Business School, Paris, France; Vietnam National University, HCM; University of Law and Economics, Vietnam; Kathmandu University School of Management, Kathmandu, Nepal; the University of California, Riverside (IEP), USA; University of Economics, Ho Chi Minh City, Vietnam; Nanyang Business School, Nanyang Technological University, Singapore; School of Business and Economics, Linnaeus University, Sweden; European Institute for Asian Studies, Luxemburg; and, Risk Management Institute, National University of Singapore
How to Apply
For Registration - Click Here
Executive Education Office
FORE School of Management
"Adhitam Kendra" B-18, Qutub Institutional Area,
New Delhi 110016
Mobile: +91 9166085159/ +91 9810875278
Email: exed@fsm.ac.in
Landline No.: +91-11-46485562/41242447
Website: www.fsm.ac.in