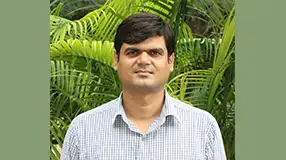 Dr. Faisal Ahmed, FORE School of Management Faculty – "Considering Huge Economic Asymmetries G20 Should Advocate Additional Aid-For-Trade Allocation For Poor Countries.
On the eve of the G20 talks at Los Cabos, Mexico on 18th and 19th June 2012, Dr Faisal Ahmed, Associate Professor of International Business at FORE School of Management, New Delhi opines that it is high time that the 'pertinent issue of the architecture of development co-operation across the globe' is addressed.

"The least developed countries (LDCs), burdened with huge external debt, have severe capacity constraints in translating their long-term development plans into operational objectives based on the immediacy of public requirements. So they continue to face fundamental development challenges like hunger, poverty and illiteracy; and seem far from meeting the 2015 deadline of attaining the millennium development goals."

Dr Faisal Ahmed, who was an Associate Director at CUTS International – a global think tank on international trade, competition policy and WTO issues – prior to his current position with one of India's premier B-schools, FORE School of Management, New Delhi, feels that the challenge lies not only in the allocation of funds to the LDCs but also to ensure that common areas of emancipation are not left unattended due to systemic overlap, as there is evident global proliferation of funding channels .

"Global partnerships are using a vertical approach wherein allocations are made for global programmes; for instance, the Global Alliance for Vaccines and Immunisation has a commitment of $1.5 billion in 72 countries. The horizontal approach is customised to meet the specificities of a given country system. Yet at times, because of lack of co-ordinated policy mechanisms, they have led to an undesired overlap."

Dr Ahmed, Associate Professor, FORE School of Management, New Delhi who had also been consultant to the Economic Development and Globalisation Division of the United Nations Economic and Social Commission for Western Asia (UNESCWA), observes that, "many LDCs see high costs associated with development interventions and get relatively lower returns. Their participation in international trade is very low. These countries are largely dependent on quota-free, duty-free access and, in some cases, aid rather than trade. Considering huge economic asymmetries, G20 should advocate additional aid-for-trade allocation for poor countries."
Dr Ahmed is frequently invited as speaker and expert panelist by leading think tanks, chamber of commerce, universities and other government and professional bodies, as an expert on international trade, WTO studies, geopolitics and south-south cooperation. Dr Ahmed, who teaches International Business at FORE School of Management, New Delhi, has written more than 40 research papers/articles (including those published in journals/magazines and presented in conferences in India and abroad). Besides, his articles have also been published in dailies like The Economic Times, Financial Express, and Business Standard.