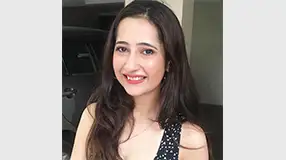 Ushma from PGDM batch at FORE gears up for her new job with multinational telecommunications giant British Telecom
While pursuing Commerce (UG) in Mumbai, Ushma realized a management degree was essential to make it big in the corporate world. After working for a year with SOM Distilleries and Breweries, she headed up north and joined the PGDM program offered by FORE School of Management, New Delhi. Completing the program, she got placed with the multinational telecommunications giant British Telecom (BT). Ushma believes the two-year journey with the B-School involving tremendous industry exposure, including SIP with Carrier Air Conditioning and Refrigeration Ltd, has transformed her. Here she talks about coming into her own as a confident professional, a trait that helped to impress her new employers.
You must be over the moon after getting placed with a top multinational company like BT. So, how was the experience?
I had to go through five rigorous rounds of selection. But when I was called to the placement office, it was a dream-come-true moment. It felt quite surreal at first, before the realization dawned! I immediately called my sister, with whom I share a close bond. I was happy to make her proud. Of course, I was happy for myself.
Five rounds of selection process? That sounds intense. Can you tell us what it involved?
Each round involved elimination. There was high pressure. In the first round we had an online test, where we were assessed on situation based questions. This was followed by GD and case study, which focused on hypothetical questions about BT's projects. We had 50 minutes to present a synopsis and solution. Finally, we had to make a 10-minute presentation on the latest industry trends and the future of BT. We were also asked questions related to this.
After these rounds, you made it to the final interview. What was your strategy to impress in the interview round?
The 45-minute personal interview touched on a range of topics: from my CV and five-year goals to my favourite subjects in MBA and technical aspects. They were looking for enthusiasm and I clearly expressed my willingness to work with BT. I also stayed calm and composed while justifying every answer in a logical manner.
What, according to you, are the crucial lessons from the program at FORE School of Management that led to your placement?
While the UG program made me aware of the fundamentals of commerce and economics, FORE helped me consolidate my knowledge and ensured tremendous industry exposure. When they say MBA is tough, they aren't joking. Having said that, the hectic schedule, back-to-back classes, two exams a day with no holiday in between, projects, and assignments made me realize the value of time management and brought me face to face with the pressures of corporate life.
How crucial was the internship experience to your overall learning?
I interned with the Sales and Marketing team at Carrier Air Conditioning and Refrigeration Ltd. The work involved market research and extensive fieldwork. It was an enriching experience as I could understand how the consumer durables market works and realize the importance of maintaining good relationship with each stakeholder. This knowledge helped me a lot during the online test for BT.
What are the aspects of your student life at FORE School of Management that you will miss now?
It is here that I learned the real importance of having good friends by your side. Two of them came over to calm my nerves just before the presentation round for BT. So I am definitely going to miss spending time with friends, the WhatsApp groups, hanging out on campus or at the waffle place in SDA market, trips to Sanjay Van, and so on. It has been such a memorable journey.
But you have a lot to look forward to as well with British Telecom. What will be your role with the company?
I will start as a Management Trainee with BT. For the next two years I will work on a range of projects involving different teams. This will help to prepare me for a management role, once the assessment is done at the end of two years. I want to give 100% to every project, so that I can learn at each step and grow both professionally and personally.
What would be your advice to juniors at FORE School of Management?
While giving 100% to academics, keep reading books and journals relating to the business world. Your schedule is packed and you have to be hands-on every day. But you should try to read newspapers daily and maybe a book or two every month. This will help to boost your industry knowledge and give you that edge for GD and PI.