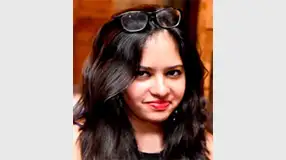 Srishty Sreya tells us how FORE School of Management enabled her to shine in the placement process and bag a job with McKinsey Knowledge Centre
Srishty Sreya says her journey with FORE School of Management, New Delhi has been full of challenges and disruptions. That it has taught her a lot, about herself and the world around her. Importantly, being a fresher, it armed her with real-life experiences. Experiences she could use during the placement process. The BBA graduate believes she transformed into a professional at FORE. She feels the internship with Maruti Suzuki India Limited has been instrumental in her growth.
Srishty went for the placement process for international powerhouse McKinsey Knowledge Centre, believing in her talent. She recalls going to sleep the previous night telling herself that it was her last night without a job in hand. The next day her dream came true: she bagged the Research Analyst position with the company that goes with a whopping remuneration package of INR 16.06 lakhs. How did Srishty make the big splash this placement season? Let's find out.
What was your reaction when you bagged a job with such a renowned name for a rather lucrative remuneration package?
When I received the confirmation letter from the HR team of the company, I knew my perseverance and hard work had paid off. I started crying, thinking of family and friends. I looked around the office, because it was going to be my home for a long time now. It was one of the nicest feelings I have experienced in my life.
How difficult was the actual placement process for the company?
The selection process was quite rigorous, involving multiple rounds of interviews and a problem-solving test at the beginning. Contrary to my impression, I found the interviewers quite nice and friendly. As if, they really wanted me to succeed. I had prepared for the interviews from the day registrations started for McKinsey and that helped.
What, according to you, did you do differently to make the right impact during placements?
I was thorough with my preparations involving the technical aspects. I also did research on the company. But, importantly, I was confident and felt positive before the placements. When I reached the company's office, I looked at their logo and told myself that you belong here. The final rounds included questions about past experience. I am a fresher, but I could speak of the experience I have had thanks to FORE School of Management.
What are some of these experiences and how did they help a fresher like you get insights into the corporate world?
After completing BBA, I came to FORE School of Management seeking holistic development – learning that would prepare me for the dynamic world out there. I faced more disruptions in these two years than I ever have in my life. I have become a more responsible person. I have learned to keep my chin up and face every difficulty with as much grace as possible.
How crucial was your internship experience in preparing you for the placements?
The SIP contributed tremendously to my actual placement. I interned with the Vendor Payments Division under Finance at Maruti Suzuki India Limited. The experience helped me to understand Corporate Finance. I did not have any prior professional exposure. But the internship enabled me to share examples in the experiences section of the McKinsey interview.
What will be your role with the company and what will be your strategies to succeed?
I will be working as a Research Analyst in the Global Financial Institutions Centre (GFIC) at McKinsey Knowledge Centre. I am expected to conduct primary and secondary research for the consulting team in the given financial services domain. It will help me enhance my career in financial services, a field I have always been interested in. I want to deliver best practices to clients and create value for myself so that co-workers trust me with bigger and greater responsibilities in future.
What would be your advice to juniors at FORE School of Management?
Whether you want to make a career in Finance or any other stream, you need to have basic technical knowledge of the domain. You can pursue online or offline courses to update your skills; there's absolutely no excuse to not keeping up with the latest industry trends. But remember, hard work is the basic requirement. You need to translate hard work into confidence in front of the interviewers. Believe in yourself, because the vibes you generate in that room will win you the placement.