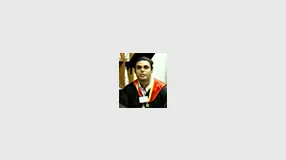 Profile : Arjun Sarin, Class 2015, FORE School of Management is all set to embark on his entrepreneurial dreams and follow his destiny
Arjun Sarin was working at Infosys, a big brand in its own right when he decided to move towards a new career path. He wanted to find his own place under the Sun, which is why he joined FORE School Of Management, New Delhi. It turned out to be a smart decision for him as two years of pursuing International Managers Group, PGDM brought him due rewards. Not only did he win the Silver Medal but bagged a prestigious placement as well. But that's when he decided to take a less traveled route.

In fact, if you look at Arjun's journey there are several surprises along the way. He smiles at the thought and nods in agreement. "Yes, I am sure the Silver Medal surprised a lot of people because I have never really been that studious. But it was a happy moment for me. Another surprise probably might be that I turned down the placement I was offered at the end of the program and decided to venture out as an entrepreneur. For me that was the purpose of doing my PGDM; to stand out on my own," he says.

It's not surprising that Arjun recalls his stint in France as the most memorable time during his academic years. He also talks about the support he received from his faculty members, who encouraged his entrepreneurial dreams too. "There are several faculty members at the institute who stimulate intellectual thinking in you. Interactions with them were always enriching and it's about how much you want to soak in from them. The good thing was that they always tried to promote individuality amongst each one of us," he adds.

Arjun himself seems to be one who revels in his individuality. But he also cherishes the bonds he has created at the institute. Ask him what he is going to miss about his college days and he says emotionally, "There is plenty to miss, including my friends who I have shared so much with. I am also going to miss the night classes because after them we would go to the dhaba and hang out. Those used to be our best bonding sessions because we would share everything about our day. These moments will always be special to me."