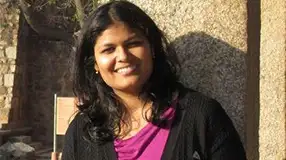 There is something remarkable about numismatists – people who study or collect currency coins and paper money. The 2012-14 batch of FORE School of Management, New Delhi knows this for sure, because of Pallavi Swaroop. They know well that, every once in a while, Pallavi has to spend some time examining the contents of her box full of currencies, as if those coins were her connection to exotic foreign lands. So when, in December 2013, Pallavi was snapped up by Capgemini as a Research Consultant, the verdict was out amongst her batch-mates – "Pallavi is going places… and this time not just in her dreams!"
In fact, it won't be far from truth to say that FORE School of Management, New Delhi didn't change Pallavi… it only made her more of what she already was. Born in Lucknow in a family of doctors, Pallavi was brought up in Moradabad, before making it to the famed VIT (Vellore Institute of Technology, Vellore) where she earned her B.Tech in Computer Science. Given her affinity for research, she was taken on by Athenahealth India Pvt. Ltd. as a Senior Payer Knowledge Analyst in Chennai, where she put in two years before cracking FORE School of Management.
"The journey has been absolutely amazing and enriching! I have learnt a great deal about real life and the corporate environment, and FORE has provided me with the perfect platform for improving my presentation and interpersonal skills."
Pallavi recounts how she was given a wide knowledge of the entire spectrum of business management, while her teachers encouraged her natural inclination towards research and analysis at the same time. Guided by her mentors at FORE School of Management, New Delhi Pallavi Swaroop earned the distinction of getting quite a few of her research papers published while doing her PGD,. These include "Social Entrepreneurship: targeting Societal Transformation" (2nd International Conference on Emerging Markets & Issues in Management at VIT Vellore, April 2013), "Sustainable Practices Adopted by Organizations: An Indian Outlook" (International Journal of Business, Management & Social Sciences, December 2012). Add to this the extensive corporate internships with KPMG and Moser Baer, and you know why Pallavi will be stepping out of FORE School of Management, New Delhi knowing exactly what is expected of her at Capgemini.
"As a Research Consultant at Capgemini my job will involve planning, management and delivery of projects; sourcing data using secondary research techniques and relevant databases; analyzing and synthesizing the data and authoring reports with actionable items; and, of course as a team player… troubleshooting! The profile requires understanding of research areas, methodologies, analytical tools, and planning and managing projects. I've learnt about - and worked with - various analytical tools in my subjects related to statistics and have worked as both team member and team leader through various projects in the past two years at FORE School of Management. In order to enhance my understanding of research, I took up a Course of Independent Study (CIS), which requires extensive primary and secondary research."
Not surprising therefore, that Pallavi is quite confident that within the next five years she will be able to move to the front-end role of a Senior Consultant at Capgemini. But that corporate climb is still a few months away, and having landed this fantastic placement, Pallavi is all set to live it up with her friends at FORE School of Management, New Delhi.