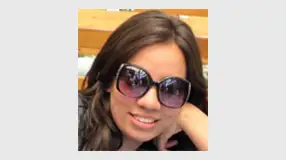 It is often said that you cannot please all the people at all times. However, as the Class Representative (CR) of the WMG 20 Batch at FORE School of Management, Maulshri Bhardwaj comes pretty close to achieving this. Described as "helpful, cheerful and yet firm" by her colleagues, Maulshri works in the Delhi office of a French MNC called Transearch, that specializes in Executive Search; and is known to have mastered the art of balancing work and education.
"After working for almost three-and-half years, I decided that Corporate HR was the place to be, for me. Since I had experience only in Executive Search in recruitment, I realised that the best way to get a wide range of knowledge about the remaining HR domain – and management in general - was by doing an MBA from a B-School that mattered. FORE School of Management's Working Managers Group - or WMG - is as close to being the perfect platformfor learning as is possible."
As the Delivery Leader at Transearch, Maulshri's typical day starts at 9.30 in the morning with a hot cup of tea. She then proceeds to map numerous company positions for her set of clients. As the day progresses Maulshri absorbs herself in searching and short-listing prospective candidates for the positions, getting hold of them, telling them the role, and following up with prospects on other profiles. She closes her day by making a detailed report to her clients and receiving feedback from them.
"My office colleagues have been very supportive about my part-time MBA. But mostly, I've been able to manage work-study well because of the comfortable class timings of the WMG course. My batchmates at FORE School of Management come from diverse industries like Manufacturing, FMCG, Media, and Telecom, with varied experience. The average work-ex is 3 years, which means we have a fairly good understanding of the industry we come from. The knowledge that comes out of some of our discussions is immense."
Maulshri is especially looking forward to her third and final year as a part of WMG 20, since it's her specialisation year. "So far, there have been a few subjects like Corporate Finance and Economics, which were really challenging, but thanks to the excellent faculty at FORE School of Management and my experienced batchmates, I am coping up with it fairly well. It has been quite an achievement for me. The kind of knowledge that the Faculty members possess and impart is gained over many years. It is simply fantastic! Not only do they share their own knowledge in varied and interesting ways, but encourage each of us to bring our strengths to the table."
Maulshri is positive that this final year at FORE School of Management will open the gateways of knowledge of corporate HR. She is looking forward to leveraging her learning at WMG to break into a Corporate HR profile.