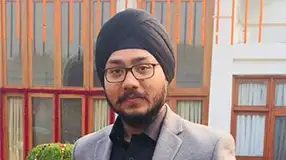 Profile : Harjas Singh Kohli of PGDM 2015-17 has gone from working for Accenture to now joining a start-up. This is the magical journey of FORE, which takes you in new directions, towards new beginnings.
Harjas is going to be joining Explorars, which is a start-up focused on helping students learn through travel. Coming from a technology background and having a work experience of 2 years in Accenture, he never thought he'd be working in a start-up. However, his time at FORE has taught Harjas to think strategically on choices and adapt to take advantage of opportunities as they present themselves. He had some degree of familiarity with Explorars, which helped him in his decision process. Elaborating on the experience, Harjas offers some insight into the evaluationprocess of his internship. "I got a Pre-placement offer (PPO) from Explorars, where I did my internship. I feel that every day of the internship was a selection process day. I used to get tasks everyday which I used to complete to the best of my ability. When I think about it now," he continues,"I realize that there were so many times when I was judged on parameters like attitude, honesty, etc. Lucky for me, I have always believed in having the right attitude throughout my life which really helped me in adding value to the work I was doing, and thus, proving my capabilities in the company."
At Explorars, Harjas is going to be working as Manager –Strategic Initiatives, wherein some of his responsibilities will include:
1. Initiate Strategic Partnershipsand collaborations with different firms to add value to the current business model of the company.
2. Make new strategies, be it in Marketing domain, Operations domain, etc. to increase the efficiency of the working in the organization.
3. Recommend innovative ideas to gain competitive advantage in the market.
In terms of his background, Harjas had completed B.Tech. in Computer Science Engineering from Jaypee Institute of Information Technology in 2013 and then worked as Software Analyst in Accenture, Mumbai for 2 years. It was his desire to move from a techno-functional role to the business side that motivated him to seek out a PGDM course. An ethic for hard work, multi-dimensional experience, academic knowledge, and great friends for life is what he has gained in his 2 years at FORE.
For the many professionals to follow, Harjas advises that "One should be really passionate and inspired by the vision and mission of the company and its domain to be able to add value to oneself and the organization. Also, I think that one should follow one's heart, have faith and be willing to take unconventional decisions in life because this risk-taking ability is what will help one in making a way forward. Having the right attitude and being honest are also two very essential points."