International Immersion Program 2019 for PDGM FM Batch
International Immersion Program 2019 for PDGM FM Batch
@ Risk Management Institute, National University of Singapore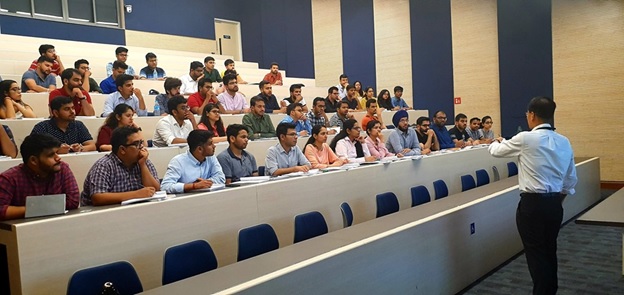 International Immersion Program is a part of the full time course curriculum after Term-III for students to have an exposure of international business scenario. All the full time students at FORE attend one week course at one of our international partner institutions, which includes industrial and corporate visits at foreign location. International Immersion Program for PGDM- Financial Management batch for the academic year 2018-19 was conducted from June 03-08, 2019 at National University of Singapore (NUS).
Risk Management Institute (RMI) which was established in year 2006, with the support of Monetary Authority of Singapore (MAS) hosted the program at NUS, Singapore. Students undertook a full credit course on Credit Risk Management over a period of one week, and sat for end of the course examination to earn prestigious 'Specialist Diploma in Credit Risk Management – Corporate Banking" from RMI of NUS, Singapore. Course was conducted by Mr. Frankie Phua, Managing Director and the Head of the Credit & Country Risk Management Division in United Overseas Bank Limited ("UOB") Singapore. Outside the UOB, Frankie is active in the risk management community. He is currently the Chairman and a Director of the Board of the Singapore Chapter of the Risk Management Association ("RMA") in US. He is also a member of the Financial Industry Competency Standards ("FICS") working group in Singapore.
In the course of the program students learned about Establishing an appropriate credit risk management framework; Developing and maintaining corporate credit risk policies and procedures, monitor and control credit risks, properly evaluate new business opportunities, and identify and administer stressed credits, and Maintaining corporate credit risk exposures within acceptable parameters, and monitoring the quality of corporate credit portfolio, in order to maximize a bank's risk-adjusted rate of return. Mr. Frankie Phua, who is widely regarded as subject matter expert for the BASEL implementation, also discussed evolution of BASEL framework and provided state of the art details of BASEL 3.5 implementation, which is widely referred by the banking industry as BASEL IV.
During the program students stayed at North and South Towers of U-Town residences in NUS Campus and experienced world class residential and recreational facilities.