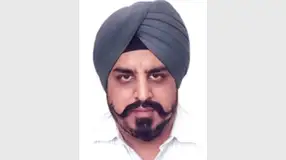 Mr. Harkawal Singh, FMG-8 (1999 - 2001)
Profile: Head Marketing, Dabur
For a student of FORE School of Management, nothing is a greater indicator that he or she has arrived than being invited by the alma mater as a speaker at Rendezvous. Harkawal Singh, who was recently bestowed with a similar honour, believes that being at Rendezvous 2012– held on the 27th of November this year - was nothing short of spectacular.
"Rendezvous was a great experience and it is an excellent initiative by FORE School of Management. It allows candid interaction between the current students and alumni. It was great to be back to FORE after many years. Of course it felt amazing – and at the same time a little strange- being on the other side rather than being a part of the student body."
Harkawal reveals that 12 years of the corporate world has not always been a smooth ride, but each crest and trough has been a great learning experience, pushing the learning curve higher and higher.
"After passing out of FORE School of Management, I started as a Management Trainee with the UB Group. In the span of 4 years there, I launched a new Whisky called Derby Special Whisky, handled Bagpiper Whisky, the flagship brand of the UB Group, and was part of the Core team of Project Hercules, where along with Accenture, the team was responsible for giving the Blueprint for Brand Portfolio & S&D restructuring. Post UB Group, I have been with Dabur for the last 8 years handling various Sales & Marketing positions including sales in South Region and Marketing of Home Care, Baby Care and Oral care protfolios."
Harkawal is currently the Senior Manager – Marketing, responsible for Oral care products at Dabur. He attributes his success to his abilities as a team player, as well as the constant endeavor to operate as an Entrepreneur and not as somebody just performing his task as an employee. It is an attitude he picked up very early in FORE School of Management.
"A fresher at management school today should interact more with the industry through live projects, and use Summer Internship to understand the dynamics of an organization. Participating in team-led activities in the B School is an absolute must today. Let's face it, within a year of passing out of FORE, most of you will be Team Leaders in your organisations. While the basics remain the same, each organization has its distinct DNA & culture, based on its people. Many a times this results in unlearning what you have learnt, and start afresh. The preparation in a B-School like FORE School of Management makes one look at the bigger picture, approach things in a systematic and analytical manner, and acquire the necessary soft skills of team play and people management."
Harkawal shares that the job scenario in the FMCG sector is as good as ever – especially in Sales and Marketing - and is likely to get better with recent policy changes expected in FDI. "As a recruiter, apart from the basics, today I'm looking for open-mindedness and creativity, willingness to learn and imbibe the learning, the ability to adapt, Crisis Management and last but not the least, good communication skills." Harkawal says that the time spent at FORE School of Management is unforgettable. He especially remembers his days as a Placement Committee member, organizing the placement week for his seniors, while in first year. "I still recall the sheer relief and happiness on their faces on announcement of their confirmation with the visiting company. It was priceless. Even as a final year student I was managing both the semester pressure and the responsibilities of bringing companies to campus."
He believes that those days of constant struggle of work and time management in FORE School of Management has definitely helped him to handle multi-tasking today.