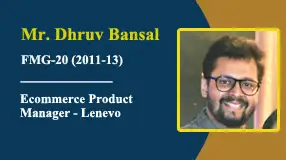 Mr. Dhruv Bansal - FMG 20
Ecommerce Product Manager- Lenovo
It was the year 2010 when I wrote CAT and after having cleared a few PIs, had to decide which institute to choose from. FORE, with its substantial alumni network and the proximity to the Corporate hub of Gurgaon and Noida, meant that it will not have dearth of exposure. And I was not wrong.
I remember the atmosphere on the first day, each one of us eager to compete and learn. The Corporate Interactions which gave way to case studies and inter-college competitions, everything happened so quickly. The mandatory internship makes the fresher crowd gets to know the importance of corporate exposure and adapt themselves well in advance.
I had the privilege of studying with great peers who I can vouch, are working for the best of organizations and at the best of positions. This network of my batch mates is at the heart of the many things I got from FORE.