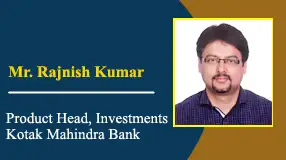 Mr. Rajnish Kumar
Profile: Product Head, Investments, Kotak Mahindra Bank.
1. How was your first day at FORE School of Management?
I distinctly remember my first day at FORE School of Management. I walked through the gates of the prestigious B-school with the vision of becoming a successful business leader. Back in 2001, the idea of being successful in life was based on limited parameters and restricted to conventional professions. The first step towards accomplishing that dream was earning an MBA. However, over my two years at FORE, I got a chance to expand my perspectives.
2. What is one key takeaway that you carried forward from your time at FORE?
Given the comprehensive course structure and curriculum at FORE, managing time to stay up-to-day with all assignments, case studies, while managing time for self-study was a tough ask. While it seemed frustrating at that time, the hustle attitude that I imbibed during my time at the B-school stayed with me till date. Even today, I strive to become an able manager who possesses the capability to manage multiple pertinent projects without breaking a sweat.
3. How did FORE facilitate you in taking the first step towards your dream career?
Right from Day 1, the learned faculty at FORE emphasized on the importance of being hardworking, dedicated, and disciplined. Coupled with the guidance of in-house professors and distinguished corporate guest speakers, FORE prepared us to face the music in the real business world right from our first semester. Not only did it focus on technical skills, it laid special importance on soft skills that aided our holistic development, thereby preparing us for our dream career.
4. Are there any specific industry insights from the banking sector that you'd like to share with the present aspirants?
The banking sector is increasingly dynamic and subject to various changes based on diverse factors. The secret to becoming an able banker is to consistently keep up with these evolving dynamics and stay on one's feet. Read a lot, and more importantly network a lot. Attain knowledge from every possible source and maintain clear fundamentals.
5. What were the driving forces towards your success in your journey as a business leader?
Passion and the pursuit for excellence were my main driving forces. Combined with the exceptional support from my friends and family, these two factors played a vital role in shaping me up and mark my business journey.
6. On what areas should business aspirants focus on in order to etch their mark in the corporate banking sector?
The idea is to pick a niche in the corporate banking sector and expertise in it. For instance, I had a passion for investments and wealth management. Throughout the course of my career, I looked to hone my skills in these two domains and excel in them.