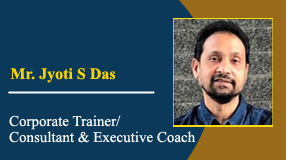 Mr. Jyoti S Das
Profile: Corporate Trainer/Consultant & Executive Coach
FSM Achiever Alumni from the PGDBM Batch 1992-94
1. Describe your career journey and your current role.
I have 27+ years of rich corporate experience in both multinationals and a strong Indian company with leadership roles, largely revolving around Sales, distribution & marketing management. The organizations I have worked for in various capacities include Whirlpool, Electrolux, Godrej and Swatch Group heading the India business of two iconic global brands i.e. Swatch & Calvin Clein Watches + Jewellery. In the last 2 roles, I was the Business Head for India with a P&L responsibility.
After spending nearly 3 decades gaining experience in leadership roles in these organizations, I have branched out on my own in early 2022 as a corporate trainer/consultant and coach. Utilizing my long years of corporate and leadership experience, I want to make a difference as a mentor to those who can find my experience useful. I am currently pursuing my PhD from BIT Mesra in Marketing with specialisation in Luxury Management. With my long industry experience and current theoretical pursuit, I aim to contribute significantly to Management education as well.
2. What are some of your key achievements in your illustrious career journey?
I would count on my pan India work experience on two extreme ends of the industry spectrum i.e Consumer Goods and Luxury with completely opposite marketing mix dynamics. I had turned around and scaled up Swatch and Calvin Klein Watches in India. Was instrumental in facilitating the single brand retail entry for Swatch. Also worked in providing strategic direction for brand development in India, P&L management, retail development, identification and development of retail opportunities, and built comprehensive knowledge of distribution, advertising and channel management. My marketing contribution lies in Celebrity management working around weaving events around Disha Patani, Sonakshi Sinha, Tapsee Pannu, Diana Penty, Imtiaz Alli etc . I have recruited, trained and build teams in my leadership roles.
The second aspect that I'd count as an achievement is my yearning for continuous learning. Prior to FORE, I had done my Bachelor's and Master's in Political Science from Hindu College, Delhi University.. After completing my PGDBM from FORE, I have picked up insights from my corporate roles and am now enrolled in the Ph.D. programme at Birla Institute of Technology, Mesra in the area of Luxury Management.
3. Describe your FORE journey. What made you choose the institution and how did it fulfill your learning aspirations?
I joined FORE in 1992. At that time, management education, B-schools, and India itself were very different from what they are today. It was a time of great change brought about by the 1991 reforms that opened up the economy to private and foreign investment in a big way. I opted for FORE because it was one of the few institutions focused on management education solely and well ahead of its times. I enrolled in the PGDBM, International and Domestic Marketing course and really enjoyed my learning years here. I was also an active debater and quizzer in my campus years. I feel proud as an alumni today to witness the immense improvement in the brand equity of FORE School.
3. A message or a success mantra that you would like to give to your juniors.
There is no age for learning. Learning is a journey that should go on till the last day of your life. The lessons change, you even become a teacher later in life, but that does not mean that you are done with learning. Make the most of all your learning opportunities throughout your academic and professional lives. And contribute back to your alma mater in whatever way possible. All the very best for that.
I wish the students and acclaimed faculty of FORE School of Management all the best.