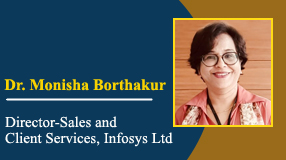 1. Describe your career journey and your current role.
I had a long stint of 8 years with PwC at the start of my career working in Advisory Consulting under GRID(Government Reforms & Infrastructure Development) unit. For the past 10 years, I have been working with Infosys Ltd. and am currently Director for Client Services/ Engagement Manager, India Business Unit where I manage multiple large-scale accounts/portfolios and Sales and Business Development in the Government sector.
2. What are some of your key achievements in your illustrious career journey?
I don't know if it is an illustrious career journey yet but I am quite pleased to have made a small difference in a career spanning over two decades in handling transformation in the important area of government reforms and public policies, social verticals, programme management, delivering external and internal advocacy and steering sales and business development. I have had the pleasure of working with various Central Ministries and almost all States/ UTs of the Country and have developed an in-depth understanding of work in the government/ public sector. I have also got the opportunity to work with cross-cultural and multi-lingual clients across numerous International Funding Agencies (World Bank, ADB, DFID, UN Agencies). Throughout my last several years career, I learnt from both success and failures while dealing with few challenging assignments.
3. Describe your FORE journey. What made you choose the institution and how did it fulfill your learning aspirations?
I completed my PGDM in International Business from FORE School of Management in collaboration with Nottingham Trent University in 2002. My time at FORE was time well spent. This is where I established the foundations of my business education, and this has served me well for my entire career. My days in FORE definitely helped in shaping my career goals as I learnt my fundamentals there - team building, multi-tasking, time management- all in one capsule. We got the exposure to learn from very distinguished and amazing faculty members and even today, I follow some of the important tips given by them during my days at FORE.
3. A message or a success mantra that you would like to give to your juniors.
Do not stop learning. Your current course is just the start. For me, lifelong learning has been a goal, strategy, and way of life. I had a B.Sc (Economics, Statistics, Mathematics), M.Sc in Statistics before my PGDM. After my PGDM from FORE, I have undertaken a Ph.D. in Operations Research and an Executive Education Programme on Strategy Beyond Markets (Government Relations and Public Affairs) from Stanford Business School, Stanford University. In today's world, it is critical to keep yourself updated through formal learning and personal development throughout. I also urge all of you to write and publish papers- share your views and knowledge to the larger group of people within your network/ Industry. I keep writing thought papers even today. I published and presented number of her papers in national and international journals/ forums. Attend, participate and present your views and findings in events – which will boost you up to build your career with confidence.