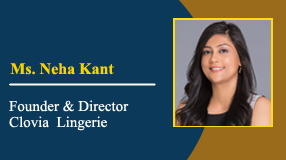 Ms. Neha Kant
Profile: Founder & Director at Clovia Lingeri
1. Describe your career journey and your current role.
I graduated from the FORE School of Management in 2004 and started working as an Account Executive with FCB Ulka. I went on to join Bag It Today (India Today Group), where I headed Sales and Marketing, and later joined bestylish.com as a Digital Marketing Head. In 2014 I decided to start my own venture with all the experience I had gained and founded Clovia Lingerie.
Currently, I am the Founder and Director of Clovia Lingerie, one of the fastest-growing Indian lingerie brands. We have now expanded our business from lingerie, sleepwear, loungewear, activewear, shapewear to women's personal care, beauty and hygiene products and are en route to becoming a global name in this sector.
2. What are some of your key achievements in your illustrious career journey?
FORE gave me the confidence to push my limits. During my 6 years stint at Bag It Today (India Today), the business grew from less than 2 cr to a 120+cr entity.
My experience of working across sectors in varied roles from clients, sales to marketing, helped me gain knowledge and broaden my expertise in customer acquisition, outreach, brand growth, and so on. It gave me an upper hand and added experience and skillsets to my entrepreneurial journey as I went on to start Clovia Lingerie. I have also been recognised as the "Best Woman Entrepreneur" at the RBL Bank SME Business Excellence Awards.
3. Describe your FORE journey. What made you choose the institution, and how did it fulfill your learning aspirations?
I was always inclined toward running a business, and I needed to gather the know-how for it. So, when I looked for B-schools in Delhi, FORE struck every chord in terms of cutting-edge curriculum, expert faculty, placement records, and added learning through workshops, seminars, and so on. They gave me the tools and knowledge that I needed to understand and face the business world. I am truly glad that I chose FORE over other B-schools.
4. A message or a success mantra that you would like to give to your juniors.
Never give up! Things may not always work out the way you want them to but be assured that FORE will prepare you for every challenge. Just continue striving, and success will surely come your way.