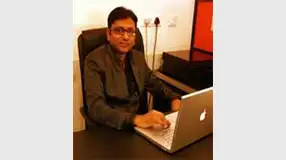 Shantanu Saha, FMG -2 (1993 - 1995)
Profile :Founder and CEO, The Recruiters
Shantanu Saha, Founder and CEO of The Recruiters, is extremely happy being on the admission interview panel of FORE School of Management, New Delhi. He enjoys the interaction in the process of selecting bright young minds for FORE.
FORE has been his constant companion ever since he passed out with a Post Graduation in Management in 1995. Back in 1993, FORE School of Management had just begun offering HR as a specialisation. On passing out in July 1995, he was placed with ABB Ltd. - a power and automation MNC. He remembers being the only Management Trainee at ABB Ltd. with an HR specialisation, wherein others were mostly Charter Accountants and Engineers. Owing to his understanding of the subject, he was made the group leader for their Pan-Indian training visit to all the facilities of the ABB Ltd. Shantanu's big break came when ABB Ltd. acquired a new production facility, jointly with the Birlas. He was sent to Kolkata as the HR representative to integrate this new facility. Apart from handling post-merger joint venture partner sensitivities (with the Birlas), participating in ISO recertification audit, handling Government interactions, statutory notices and Labour issues, he also negotiated with tough labour unions. This experience was of excellent learning value and served as a backdrop for entrepreneurship later in life. Seeing his people skills, ABB Ltd. appointed Shantanu the HR Head of the unit.
In April 2000, he made a shift into the hotel industry when Mr. PRS Oberoi, of the Oberoi Hotel fame, took him as Manager HR for Trident Agra. The exposure made Shantanu realise that HR as a function is determined by the criticality of the human force to the organisation. While his stint here was short, Shantanu successfully resolved many labour and Union issues. Shantanu seemed to be going places! Yet 3 months into this job, he surprised all his friends and well-wishers by tendering his resignation at Trident Oberoi, Agra, without another job in hand. In reality, however, Shantanu had sensed a fantastic opportunity…
One may recall that way back in 1993, Shantanu had picked up HR at FORE School of Management when HR was looked upon just as a function, and not a critical partner in business, as it is today. Once again displaying a nose for opportunity and an eye for the bigger picture, Shantanu packed his bags in 2000, moved to Delhi, and joined a Computer course. He had sensed that the IT sector was all set for a bull run…. And he was right!
By March 2001, Shantanu Saha had completed his course, and was snapped up by IBM Daksh. He was only the second HR recruitment by the IT giant in India. IBM Daksh was a fledgling 200 member organisation at that point in time. As the Manager –HR, of IBM Daksh's BFI Business Unit, Shantanu played a central role in taking the organisation from 200 to 2000-strong in 6 months flat! He bagged the Daksh Leadership Award, personally given by the CEO, for the year 2001.
Despite these accolades and achievements, Shantanu moved to Global Vantedge by the end of 2001. He was brought on-board by Global Vantedge as the AVP, HR, with a 100% hike, and an opportunity to replicate his success at IBM Daksh. He excelled ? by the end of his 2 years at Global Vantedge, the company had grown from 100 to over 1000. In these 2 critical assignments, whenever the need arose, Shantanu displayed his education, business knowledge, and work ethic that were cultivated at FORE School of Management. "I have been an ambassador of FORE from day one", he says "Being a 'FORE'ian' is an achievement for me. It is an integral part of who I am. Throughout my professional career and entrepreneurial journey, I have hired bright people from FORE as a part of my team."
By July 2004, barely 9 years into his corporate career, Shantanu was sitting high up the corporate ladder. As the Vice President, Astra Business Services, many saw Shantanu in that light. He achieved what he had to as VP – HR at Astra Business Services, in just 3 months… and launched The Recruiters in October 2004. His success at The Recruiters is clear: "I broke even in 6 months. By the end of the 2nd year, my personal profits were more than my last salary as an employee. Today, our clients include Consulting, KPO's, Financial Services, FMCG, PR, Manufacturing, Life Sciences etc."

With his execution prowess and decade of experience in Human Resource and recruitments in leading BPO companies, Shantanu Saha sees this only as the starting point for The Recruiters.