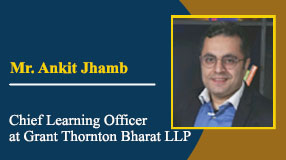 Anubhuti
Topic: My Career in an Hour.
We had the pleasure of hosting Mr. Ankit Jhamb, Chief Learning Officer (CLO) at Grant Thornton Bharat LLP, as a part of Anubhuti
Mr. Jhamb led the participants in a highly interactive session by sharing his life journey, from a student to becoming one of the youngest CLOs
and a writer. He shared intriguing anecdotes from his college life, getting hands-on experience in theatre, facing the conundrum of becoming a
Chartered Accountant, and finally climbing the corporate ladder.
He further emphasized on the importance of always striving to get out of your comfort zone and remaining a lifelong learner.