Panchtatva 2017
Panchtatva – Insights into various domains from experts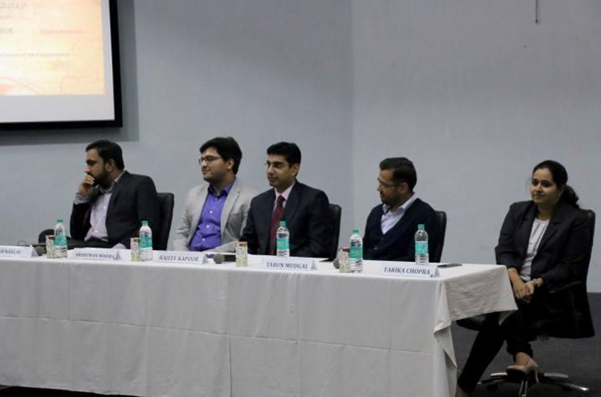 MBA graduates should have knowledge about all domains irrespective of their specializations. Keeping this thing in mind, FORE Alumni Network conducted Panchtatva 2017 on 6th January, 2017 where five Alumni of the institute shared their experiences of their journey from the campus to corporate and the session was made interactive by an inquisitive set of audience. The event was facilitated by Prof. Freda Swaminathan. Alumni are working in various domains namely, IT, Finance, Marketing, HR and Operations and proper functioning of all these departments in any company decide its success or failure.
Ms. Tarika Chopra from batch FMG 16 working in Expedia as an HR Manager started the session by telling the various reasons to pursue HR as a career. She talked about her wonderful experience interacting with people, HR manager can handle people effectively and align employees' mindsets, competencies and behaviour according to the business's strategy. She also told us that HR is not only restricted to staffing and planning only, new roles are coming up. They have to implement best HR practices to achieve administrative efficiencies in delivering HR transactions. HR people have to promote their company while doing campus hiring, engage in employee advocacy, strategy execution etc. So, HR department is now integrated with business and no longer an isolated one.
Mr. Rajeev Kapoor from batch FMG 13 working in Religare Finvest Ltd. in Banking and Financial services domain as Vice President talked about various types of financial institutions like commercial banks, investment banks, NBFC, Insurance companies, Asset management companies, brokerage firm etc. He also told us about major segmentation in banking sector i.e. Retail, Corporate, Commercial banking etc. In banking, there are various opportunities in Risk Management, Sales & Business development, Audit, Compliance etc.
Mr. Jai Nargas from FMG 15 batch is working with General Motors as a Manager in Digital Customer Experience. He told that marketers have realized the importance of customer service. It is not restricted to after sales service only, but the entire shopping experience of customers, how marketers get in touch with customers, how they treat them, work on their feedback etc. He told about the emerging digital market where everything can be sold, even cars in India which traditionally require touch and feel.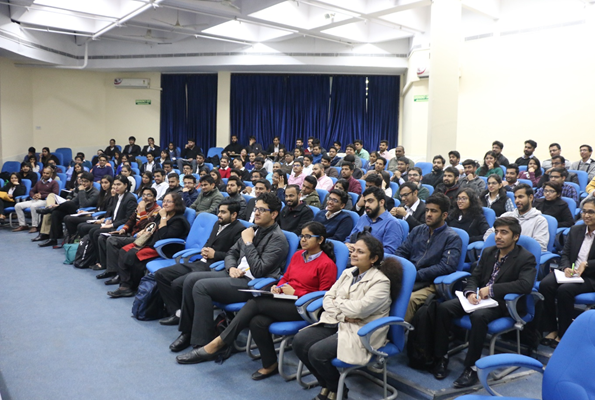 Mr. Tarun Mugdal from IMG 2 batch is working in Sales and Marketing domain with Gartner Advisory as Senior Account Director. He started with statement that everyone is interested in marketing nowadays but no one is ready to step into sales. He also said that B2B sales is growing very fast and has a very wide scope. Marketers are giving attention to analytics very much to understand the customers' needs and patterns.
Mr. Anshuman Mishra from FMG 20 batch is working in Operations domain with Google as an Operations Lead. He talked about the criticality of choosing your electives, it should be based on your grades, learning, interest, certifications and work experience. Operations domain deals with utilization of resources effectively making process efficient, timely delivery of products, quality management, managing people etc. He also recommended students to take up Six Sigma certification course especially for Operations domain.