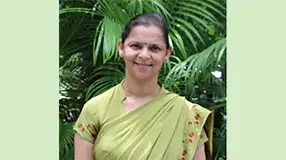 Prof. Mohita Gangwar Sharma has presented her research in various international platforms like EUROMA, IPSERA, HUMLOG etc. But the seminar on "Challenges of Sustainable Operations in Emerging Economy: Special Focus on India" at Leeds University Business School has been a very special one.
"We at FORE have a Centre for Operations and Supply Chain Management (COSCM) and I happen to be heading the same. One of the mandates of this Centre is explore options for joint research. Leeds Business School also runs a similar centre COSCM "Centre for Operations and Supply Chain Management". I contacted Prof. Chee Yew Wong. He was much interested in what we were doing at FORE and requested me to share my research so that we could explore area of future research collaboration and innovation
.
"In order to promote an open research and an innovative environment, FORE provisions its faculty with seed money to a proposed project. My research proposal on Sustainable Operations was vetted by the committee and the Director, and the grant was approved."

In fact, the seminar which was hosted during the first week of June 2015 at Leeds University Business School, focused specially on India; thanks to this connect between Leeds University and FORE School of Management. Prof. Mohita Gangwar Sharma has some noteworthy publications which include (Gangwar, Mohita and Sharma, Sachinder M. (2014), "Evaluating choice of traction option for a sustainable Indian Railways," Transportation Research Part-D, vol. 33, pp. 135-145.) and Adani Agri Logistics ("Blocking the Grain Drain", Richard Ivey Publishing, by Mohita Gangwar, K.N.Singh, Sachinder Mohan Sharma,Puneet Mehndiratta. These cases formed the basis of her presentation at Leeds University Business School.
Prof. Mohita's research attempted to structure the inherent specificities for 'Sustainable Operations' in an Emerging Economy. Since Emerging Markets are characterized by structural inefficiencies, institutional voids, and a resource constraint environment, implementing is an onerous task. It has implications at all levels of Operations: Policy Level, Strategic Planning, Tactical and Transactional. Sustainable Solutions are not generic and choices have to be made addressing emerging economy specificities. For Operations, it means adaptation and alignment, based on the available scarce resource and understanding trade-offs and competition between industry and sectors
"FORE has been extremely supportive and proactive in creating this environment. There is an annual grant provided for attending conferences over and above the generous seed money project. There has been a shift towards research in B-Schools because in this competitive era an innovative ecosystem can be the only differentiator. The research in a business school has to be business oriented. The business and research cannot talk different languages. We are striving to create an ecosystem where the challenges of the business can be deliberated, researched and analysed effectively." says Prof.Mohita
Prof. Mohita Gangwar Sharma is Area Chair and Head of Centre for Operations and Supply Chain Management (COSCM) at FORE School of Management, New Delhi. She is a keen researcher and has more than 20 years of experience in Power and Transportation Industry - BHEL and Air India - as well as Academia. She is the recipient of the coveted N.T.S.E scholarship and has studied from the premier institute of India. She has published articles and case studies in International Journals and participated in National and International Conferences. She brings the rich experience of the industry and tough academic rigor to her research and her classrooms.