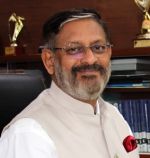 "Despite surpassing many of the placement statistics this year, FORE School of Management has remained under reported. This needs to change."
Dr. Jitendra K. Das strongly believes that as the Director of FORE School of Management, he has a responsibility towards the legacy left behind by the founder fathers of FORE.
"The FOUNDATION FOR ORGANIZATIONAL RESEARCH AND EDUCATION or FORE was created by an illustrious group of individuals way back in 1981. Ever since, the board has always comprised leaders dedicated to the cause of quality higher education. The high standards set by them and the ethos of FORE school of Management comes foremost for all of us."
To his credit, Dr. Das has been able to instill this 'FORE First' attitude in every aspect of the institution.
"When I was asked to consider the role of the Director of FORE School way back in 2009, I had just concluded structuring the Noida campus of IIM Lucknow. I saw very strong core values at FORE; very high on inter-employee relationship in terms of being transparent and following processes. I joined FORE in January 2010, and to this date, we remain a very transparent organization, almost like a government institution, because we are rule based. Of course we do keep reviewing our own rules in a stipulated timeframe to ensure currency."
Dr. Das strongly believes that internal restructuring is a continuous process that has three foci - administration, Faculty and student.
"By and large, FORE excels on all three fronts, and simply needs to consolidate its position. Infact, the need for consolidation and public visibilityhas been effectively underscored by the 2012 placements. FORE students reported an average CTC of about 8.5 lakhs, while the highest CTC stood at 39 lakhs, which even surpasses the other premier B-schools of the country including many of the IIM's.However, since we have been more pedagogy-focussed, this placement record did not find optimum coverage in leading newspapers."
A look around FORE School of Management actually makes you realize that in terms of infrastructure, and administrative and pedagogical software, what is offered to the students are at par – and sometimes, even better – than most of the top-notch B-schools in the country.
"The FORE Society has left no stones unturned in giving these students quality education and a technology driven experience, irrespective of the expenses incurred on facilities likethe Harvard University published Cases and these expensive software."
No wonder FORE School of Management has seen a steep hike ininterest shown by the Industry.One of the first initiatives that Dr. Das introduced on taking over as the Director of FORE School of Management was the inauguration of the Centre for entrepreneurship development, which is headed by the Professor – HR.
"We've had two students so far who have opted out of placements, focusing on their entrepreneurial ventures. They were able to successfully generate funds for the business idea. For our part, we are encouraging more of ourenterprising students to join them, as well as help create business plans for new ideas. If they need initial round of funding we are ready to support them financially as well. We do a lot of events, activities, workshop, seminars on this front."
The one big mindset change that Dr. Das has been instrumental in is the profile of students coming into the FORE School of Management. As an Engineer himself, Dr. Das has a deep understanding of how CAT and other such exams are tilted towards students from an Engineering background. He has consistently been trying to offset the advantage through various practices in FORE School of Management, so that his classes are diverse and carry a world of business wisdom.
"At FORE we understand that good managers need not always be engineers. Infact, a diverse set-up is ultimately of greater advantage to the Industry. There have been a few occasions where recruiters have opined that students with engineering background are not good in the field of HR. Therefore we have been reviewing our intake processes every year. Currently, the weightage given to CAT scores is about 40%, while 60% is given to the other components of evaluations. As we continue fine-tuning this process till the bias towards engineering students into our PGDM program is neutralised."
Incidentally, FORE School of Management also has a certain weightage for aspirants from the Northeast and Jammu & Kashmir, to retain the right cultural mix and regional diversity.
"We have an Alumni strength of around 5000; all of them very well placed," observes Dr. Das as if thinking out loud in his soft-spoken, professorial way."We feel the time has come to begin profiling them, especially alumni from the first, second and third batches, whose numbers are quite prominent in the senior and top management of big corporate houses. We have a major event called 'Jubilate' for the alumni, which was organised in the first week of November this year. We had close to 300 registrants this year, which indicates vibrant alumni with strong roots to their institution. Different formats are being used at FORE School of Management to engage the alumni like one-to-one discussions, panel discussions, business meets etc."
In short, a chat with Dr. Jitendra K. Das, Director, FORE School of Management, will sooner or later veer to FORE School of Management and innovations in the field of business education. Clearly, he is always bouncing ideas about FORE School of Management in his head, and once in a while he doesn't minding bouncing them off an interested visitor.
Dr. Jitendra Das is one of the leading luminaries in the Indian business education space. Dr. Das's phenomenal journey began with a B.Tech and M.Tech from IIT Delhi. He went on to receive his PhD from University of Toronto, Canada, where he was also the recipient of the most coveted 'Connaught Fellowship' for three years. As an academician, Dr. Das has sterling contributions as a full time Faculty of IIM Lucknow, and as a Visiting faculty at IIM Ahmedabad, IIM Kozhikode, SP Jain Management Centre Singapore, Danube Business School, Danube University Krems, Austria. Before taking over as Director, FORE School of Management, New Delhi he was the Founder Dean of the Noida Campus of IIM Lucknow. Prior to his shift into the academia, Dr. Das had excelled in the corporate world working with WIPRO and the DCM Group. He has numerous national and international awards and recognitions to his name.