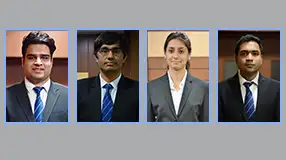 Decoding The Jumbo Achievement Of The Placement Season
FORE School of Management, New Delhi has had a stunning placement season for PGDM, Batch 2017-19. Among several high points, the recruitment of four students with Jumbo Group, Dubai stands out. Inshu Kumar Chugh, Ridhima Bhandari, Rishabh Sehrawat, and Vaibhav Bansal will make Dubai their home as they embark on exciting career journeys backed with INR 31 LPA as remuneration package.
The windfall
This year's placement season at FORE School of Management saw international placements reach double figures. In all, 11 students received international offers from renowned organizations across 7 countries. The global retail giant Jumbo Group led the way by picking four students from the batch and offering the highest salary package of the season. Of course, the experience of proving their mettle in a truly global environment is a bigger reward. As Ridhima shares, it is a dream come true: 'Working abroad was a secret aspiration for me since childhood. Now it has turned real.'
Making a Jumbo impression
Having a top global company as a campus recruiter was no mean feat. But it was the first step in the demanding selection process that included four exhaustive filter rounds and culminated in the all-important interview. Students had done their research about the company, including its market share, rivals, and challenges to ensure they put their best step forward. Rishabh also believes their internship experience was a real help. He says, 'In my case, I had designed a 3D printing feasibility tool during internship. It hit the spot because Jumbo Group has a 3D printing business.'
Campus learning to the FORE
All four recruits share similar sentiments regarding the role played by their B-School. While the internship brought them crucial corporate exposure, they feel, the ground for their rise was laid on FORE campus. While Ridhima was a member of FORE Alumni Network, Rishabh was multitasking with placement drive and Genesis 2018. During the course of the program, Vaibhav won three national level competitions and shone in many others. He shares, 'The experience of participating in seminars, conferences, quizzes, and competitions helped me achieve one of the best placements at FORE School of Management.'
A Jumbo step for recruits, a giant leap for others to follow
As Management Trainees, the new recruits will rub shoulders with seasoned professionals from all over the world. They are equipped with the necessary skills and the required confidence to take on challenges and deliver on their responsibilities. In fact, they look forward to the challenges, which will offer them the opportunity to prove themselves in the global arena. Their journey will inspire juniors to keep their eyes trained on becoming tomorrow's leaders.