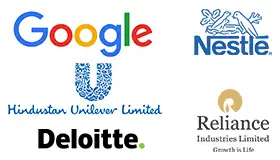 'While B-School learning can help management aspirants to become ready for the challenges of the business world, it's the internship that offers them the opportunity to test their mettle in the real world. For a fresher, it's the first brush with professional life through engagement in a work environment. But for every management student, it is the gateway to the big and exciting corporate world. At FORE School of Management, students consistently get to explore engaging opportunities with the big guns across industry sectors. For PGDM, Batch 2018-20, things were no different.
Top names come calling
Google, Reliance Industries, Asian Paints, HUL, Nestle, Novartis, Nivea, Deloitte, the list goes on. These are just some of the leading Indian and international players in the corporate world who offered our students internship opportunities of a lifetime. They were presented with a broad canvas to apply their learning in massive professional setups. Tanya Gera, PGDM-IB, who got to intern with Reliance Industries, says, 'Interning at the largest home-grown brand in India is a one-of-a-kind experience. Since it is a performance-driven organization, there is the challenge to prove yourself and also the opportunity to put your skills to test.'
Diverse opportunities across industry sectors
From an FMCG giant like Nestle to consulting powerhouse Deloitte and a robust Indian corporate house like Asian Paints, the internship opportunities students had this year were as diverse as they could possibly be. Interestingly the roles they were offered ranged from Marketing Intern to Business Consulting Intern, often keeping with their interests and goals. Suruchi Batra, who intends to specialize in Finance, looked forward to her internship with Novartis. She says, 'Working in the right department of a top organization is the exposure I need to gain the right kind of competencies. I have no doubt that this will take me one step closer to my goals.'
Making their B-School learning count
As Tanya mentioned, internships with top companies is certainly a huge opportunity but also a big challenge. Given their learning experience at the B-School, our students feel confident about making their mark with these renowned organizations known for their high standards of professionalism. They are unanimous in their assertion that being pushed out of their comfort zone during their programs helped them gear up for the internship. Sarthak Mittal, PGDM-IB, who got to intern with Hindustan Unilever Ltd., says, 'The Personality Enhancement Cell and other committees helped me stay updated with current market knowledge. It prepared me for my internship with HUL, which is a stepping stone in realizing my aspirations.' He echoes the sentiments of his batch-mates, who got to learn the tricks of the trade from big names in business.