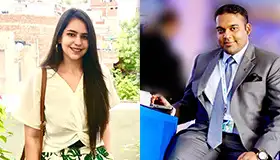 The Marketing and Sales domain has traditionally been the most sought after area for management students. This year things were no different at FORE School of Management, New Delhi with 45% students of PGDM, Batch 2017-19 opting to specialise in Marketing. They were not disappointed as both startups and corporate giants from across industry sectors in India and abroad provided ample placement opportunities. With INR 31 LPA offered by Jumbo Group, Dubai, four students claimed the highest salary package slot. But there was a lot more to cheer for as Marketing and Sales hopefuls got the perfect platform to build successful careers in the field.
The domain of diverse roles
An interesting aspect of the Marketing and Sales domain is that students get picked for positions in challenging roles, including Sales Executive, Corporate Sales Trainee, and Marketing Trainee. Companies from across sectors and industries offered these positions. Bharti Airtel, JK Paper, Saint Gobain, Asahi India Glass, CB Richard Ellis, and Tribeca Creators, among others, offered students positions in Corporate Sales. On the other hand, Jumbo Group hired four graduates as Management Trainees.
Students achieve their goals
Ajooni Singh admits that she had all along set her eyes on a career in Sales and Marketing. Selected by FMCG giant Nestlé, the fresher will start her career as a Sales Executive. Dhruv Dhan had almost two years of work experience in the IT sector before joining the PGDM program. The management learning has helped him to give his career the boosts he was looking for. Placed with Hilti India as a Management Trainee at a handsome salary package of INR 12 LPA, he says, 'The learning experience at the B-School, along with the practical exposure during internship, helped in my placement with the company. It has set me on the path to achieve my goal of leading a multinational organisation.'
Initiatives that mould future leaders
Ajooni Singh is the coordinator of SigMA, the special interest group for Marketing at FORE School of Management. According to her, the group is synonymous with creativity. She says, 'SigMA holds Marketing related events throughout the academic year, and invites prominent faces from the corporate world to interact with students. It ensures a robust platform for students to gain insights and exposure to become ready for the industry.' In fact, corporate interaction, seminars, and conferences focusing on Marketing and Sales have marked the year's program at FORE School of Management. That coupled with the B-School's research oriented, case study based, and innovative pedagogy led learning with focus on the latest developments ensured that students got the edge during the selection process for Marketing and Sales roles this placement season.