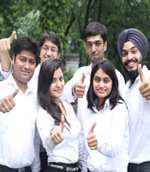 The PPO and PPI figures for 2018–19 at FORE School of Management, New Delhi paint a happy picture for students at the B-School. Till now more than 30 students have received PPOs and PPIs from reputed companies, which is higher than last year's numbers. In fact, PPOs have only just started coming in and the high figure indicates better performance in the coming days. In addition, the highest CTC of INR 18 lakhs has been offered to three students by Philips Lighting. Top organizations across industry sectors offered PPOs to FORE students at an average CTC of close to INR 12 lakhs.
Looking at corresponding figures from 2017–18 shows there has been an increase in the number of recruiters. Renowned names like Deloitte and Pladis Global offered PPOs or PPIs for the second straight year. It's interesting to note that PPOs and PPIs have come from diverse industry sectors. From a Finance heavyweight like Tata Capital to leading FMCG brands like Nestle and HUL to an IT powerhouse like Capgemini to a lighting giant like Philips Lighting, the list of companies is impressive.
Straight PPOs were offered to 10 students by companies as a result of their performance during internship. In addition, 5 students bagged PPOs through rigorous PPIs where they proved their mettle. Also, 5 more students made their mark with the companies and bagged PPIs. So how did these students make the right impression? "The key is to be yourself and not hesitate to reveal your true personality to your employers. They are looking for candidates who can easily fit into their organizations," says Hanishi Gandhi, who won a PPO with GEP.
Understanding the processes and best practices of an organization is vital to bag a PPO, revealed many of the successful candidates from this year. Shrey Mittal, who received a PPO from Deloitte, shares, "Besides delivering on the responsibilities given to you, it is important to take the initiative. I pushed myself to the limit during my internship and the effort paid off." Students also underlined their preparation before the internship, which ensured they put their best step forward while facing the industry.
According to the students, FORE School of Management consistently offers them corporate exposure. Industry visits, guest lectures, and live projects gives them the platform and the confidence to fit into the corporate world seamlessly. Ajooni Singh, who bagged a PPO with Nestle, says, "We also benefitted from the training that preceded the internship. Our B-School mentors were supportive and encouraging every step of the way." The results are there for all to see.