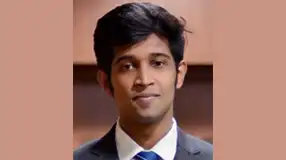 Amartya Chakraborty reflects on his decision to pursue a PGDM programme after graduating in physics
Amartya Chakraborty sees management education as a collaborative effort involving considerable networking. That's why he believes diversity in educational background of students plays a significant role in management programmes. He says, "After all, the focus of the programme is not just one stream but a shuffled mix of subjects." The Physics graduate from University of Calcutta brings his unique perspective to classroom discussions and collaborations. His interest in a range of activities including vocals, football, travel, photography, and guitar allowed him to confidently interact with different personalities and rise above failures. In addition, he has had the experience of running a profitable small-scale business. His inclination towards practical aspects of life encouraged him to pursue the PGDM programme at FORE School of Management, New Delhi. He believes the B-School has offered him a robust platform to interact with a diverse set of peers to maximize his potential and develop key skills. Here he talks about the enriching learning experience he has had on campus so far.
After graduating in Physics what made you choose a management programme?
After the 12th standard, I believe, many of us don't have the foresight or knowledge to select the ideal programme of study. I chose Physics because I liked the subject. But then, over time, realized I was more inclined towards the practical aspects of life. I also ran a small profitable venture. It reaffirmed my decision to learn core values of business through a PGDM programme.
Why did you select FORE School of Management to pursue the PGDM programme?
Deciding to join a PGDM programme, I did extensive research on B-Schools in the country. FORE School of Management stood out for three main reasons: first, its strategic location in Delhi, which has a huge advantage; second, its consistent placement record and stunning ROI (fees are lower than other B-Schools); and third, its innovative pedagogy for Marketing, the course I am interested in.
Now that you are on campus and fully immersed in the programme, would you say it is trickier for students from different streams?
For me, being part of the MBA curriculum is about adapting to new courses, collaborating with multiple people from diverse backgrounds, and broadening perspectives. So I wouldn't call the experience hard or difficult. Studying Physics has sharpened my analytical skills. I have also learned a lot from my life experiences which, I believe, will help me do well in the business world in future.
What are some of the highlights of your journey so far with the B-School?
Getting selected for the placement team (FORE Career Division) after several rounds and the extremely memorable three days of selection process was definitely one of the highlights. Securing the highest stipend in campus history for an internship opportunity with Philips Lighting has to be the other. Enriching and satisfying, these experiences helped me gain confidence and poise.
What are your career goals after completing the programme?
Whether in the short or long term, I want to be a decision maker. In two years I would like to see myself as a Marketing Manager or even a Brand Manager. I would like to be in a position where I am able to share vital inputs and give direction to products / services offered by my company.
Do you have any message for students from different educational backgrounds who want to enrol for the programme?
This postgraduate programme is going to shape your long-term career. So be absolutely sure before you enrol. If you are up for a challenging workplace environment, capable of adapting to quick changes, good in interacting with new people, and serious about working really hard for two years, then the PGDM programme is for you. The superior learning can be extremely rewarding. There is something else I wish my seniors had told me: that the programme is tough, but unwinding is harder. You need to find your kind of crazy to give your life a new dimension beyond the competitive B-School scenario.