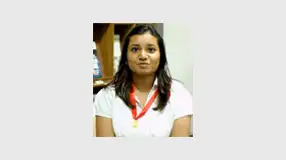 Profile : Maansi Gupta strikes Gold in PGDM FMG Class 2015 and describes how FORE School of Management, New Delhi transformed her into a professional.
Winning the Gold Medal for the Future Managers Group, Class 2015 is definitely no easy feat. But Maansi Gupta plays her achievement down rather focusing on the overall growth that her B School has brought about in her. "You know everyone, including my friends and family members are surprised by the medal. But it's a very happy day for me; however I can't think of any days that were not filled with happiness and the sheer joy of learning at my institute," she says filled with positivity.
With her B. Tech background Maansi already had various career opportunities in front of her. But she chose to aim bigger and higher. "The kind of exposure I have got after coming here I would have never imagined with my B. Tech alone. This was more of a holistic experience where I learned to make presentations and interact with people. Quite simply the PGDM taught me how to be a professional and it has made me a more polished individual," she says recalling her journey with the institute.
In fact Maansi vividly remembers her first day at college as an introverted girl, who barely wanted to talk to others. She admits that there is a sea change in her personality now as she is more confident in herself and better at communicating. "Everything I have learned at the institute I have tried to imbibe in my life. It has made a huge difference to my work life as well because I feel that I am able to handle challenges, which would not have otherwise been possible. Even the theory lessons are handy because I know how to apply them to practice," she adds.
The work life that Maansi talks about is with Cognizant Technology Solutions, a renowned firm that recruited her during the placement season. She works with the company as a Research Associate and is gung-ho about the responsibilities and tasks she has to handle on a regular basis. "We do research into financial instruments like equities, foreign exchange, derivatives and more. We come up with different models to value them, update those models and talk to the clients. It's a huge learning curve for me right at the onset of my career," she says enthusiastically.
However the glaring difference between her student life and that as a professional is clearly visible to her. She misses the fixed timings during her classes and of course all the precious moments spent with her friends on the campus. We finally ask Maansi if she has any Gold Medalist advice for her juniors and she says, "I would just ask them to study, learn and enjoy. These could well be the last two years of your education, so make them count because they can lead you to a glorious future." They seem to have certainly set Maansi on the right path.